Free State High and Shawnee Mission East's girls basketball teams combined for five more turnovers than points after three quarters Thursday, and FSHS coach Bryan Duncan knew something had to give.
None of the fourth-quarter breaks went Free State's way, and the Firebirds lost, 41-36, at FSHS.
"You're not going to win too often when you have that many turnovers," said Duncan, whose 3-13 team accounted for 33 giveaways in a game that featured a flabbergasting 58 turnovers.
"We've had a problem with our offense all year," he said. "And that definitely was evident tonight, but I also thought our defense really played well."
But for every brilliant play the Firebirds' defense made, their offense had even more bumbles -- especially in the fourth quarter.
Trailing 24-20 to start the quarter, a score by Free State's Kirby Beneventi put the Firebirds in prime position. The Lancers (11-6) answered with a pair of free throws, but the Firebirds stayed close after the Lancers coughed up the ball three times in a row.
FSHS was down 31-30 with 3:55 to play thanks to back-to-back wide-open layups by Lauren Abney, but then the Lancers caught fire.
SM East sophomore guard Sarah Parker popped the game's second three-pointer and East went on a quick 7-1 run.
If a putback by East's Jessica Parker didn't seal the deal, the Lancers' seven free throws down the stretch did.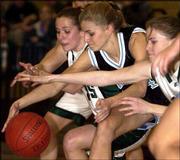 "We could never really get in the groove," said Free State's Jamie Stanclift, who tallied a team-high 10 points. "There were a few plays that pumped everyone up, but we couldn't capitalize off them."
Trailing 13-8 after the first 15 1/2 minutes, the Firebirds erupted with a five-point scoring explosion in the final 22 seconds of the first half.
Beneventi hit a pair of free throws at the 22-second mark, and then the Firebirds got the ball back after a 10-second call against East -- the game's 35th turnover.
Senior Jayme Lisher followed Emilie Humbarger's missed three with a putback and free throw to tie the game at 13.
Free State started the second half nearly the same way, except it was Stanclift who followed a Humbarger miss with a putback and foul shot for a 16-15 lead.
But SM East's Parker proved too powerful. The senior scored seven in the third quarter on her way to a game-high 17 points, and her inside play made the difference.
Parker put an end to Free State's third short-lived lead of the game with a spin move in the lane. After a teammate's bucket, she put SME up 22-18 with a high-off-the-glass layup and free throw.
"We knew she was going to score," Duncan said. "But I credited our defense to making her shoot outside early, we just couldn't keep her out of the lane."
Free State had one last chance going into the fourth down just 24-20. But a big Lancer run and five more points from Parker clinched the victory.
"I really thought Jayme Lisher played awesome," said Stanclift, who with her senior teammate combined for 12 rebounds. "We just have to have more people step it up."
Copyright 2018 The Lawrence Journal-World. All rights reserved. This material may not be published, broadcast, rewritten or redistributed. We strive to uphold our values for every story published.