Architect John Wilkins says his firm's design for a new South Junior High School eliminates a big mistake of the past.
"No curves whatsoever," said Wilkins, a partner in Gould Evans Associates.
Gould Evans' architectural rendering shows what might exist after the $21.1 million merger of Broken Arrow School and a new South. The existing junior high, which is considered an academic and security dinosaur because of its unusual curved walls, would be demolished after the new facility was constructed on the site.
Four local architecture firms will present to the Lawrence school board Monday preliminary drawings of major projects in the board's proposed $59 million bond issue. The bond package will be on the April 1 ballot.
Other renderings the board will see:
Treanor Architects -- $8.9 million renovation of Lawrence High School; $4.6 million renovation of Cordley School to accommodate more students when Centennial School is closed.
GLPM Architects -- $6.8 million expansion of Lawrence Alternative High School, which would be known as Lawrence Futures Academy.
Sabatini and Associates -- $3.3 million renovation of New York School to handle more students when East Heights School is shut down.
Rick Gammill, the district's director of facilities planning, said the drawings were made to make it easier for people to visualize what would be done if the bond received voter approval.
"The pictures help the public see what is being contemplated," he said. "All will be refined later."
Architecture firms were picked by a 10-member district committee and agreed to work on a contingency basis. If the bond passes, each firm then will be paid to develop architectural documents.
"No taxpayer dollars have been spent with the architecture firms to date," Gammill said.
In addition to these projects, about $14 million in bond work is proposed for Central, West and Southwest junior high schools and Deerfield, Hillcrest, Quail Run, Sunset Hill and Wakarusa Valley elementary schools.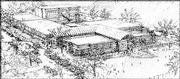 DLR Group, the district's facilities consultant, has been assisting the firms in creating the preliminary images. DLR Group, while being paid for some ongoing expenses, has a contingency contract with the district that kicks in if the bond passes.
Each architecture firm would be expected to engage teachers, parents and others in developing final project designs.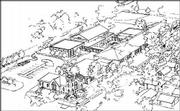 Wilkins said a central goal of the bond plan was complete replacement of South. It opened in 1968 and has a circular floor plan now thought to limit learning.
The placement of administrative offices at South and Broken Arrow in the center of each building fosters building security problems, he said.
"They can't see who is coming and going," Wilkins said.
He said the two buildings could be merged in a manner similar to what exists at Southwest Junior High School and Sunflower School. Gould Evans handled design of those side-by-side schools.
"There are some efficiencies that can be gained by having one facility," he said.
Copyright 2018 The Lawrence Journal-World. All rights reserved. This material may not be published, broadcast, rewritten or redistributed. We strive to uphold our values for every story published.