Eudora — A fire Thursday afternoon killed an elderly Eudora woman, the first fire fatality in more than 30 years in the northwest Douglas County town.
The body was burned beyond recognition. Attempts were being made Thursday to obtain dental records to make a positive identification, Eudora Fire Chief Spencer McCabe said.
Neighbors identified the woman who lived in the home as Naomi Kidd. They said she had lived alone for several years in the house at 901 Ash St. A phone book listing also identified the occupant as Kidd.
"I've known her since I was a kid," neighbor Carla Deay said. "She'd gotten a little eccentric in the last few years and we didn't see her a lot."
Emergency dispatchers began receiving reports of the house fire about 2:20 p.m., Eudora Police Chief Bill Long said. One of the callers was Deay.
"My lights flickered, and I looked out the window and saw the fire," she said. The house "was fully engulfed."
The first firefighters and police officers to arrive were unable to go inside the house because of the fire's intensity.
"There was a lot of smoke and a lot of flames," McCabe said.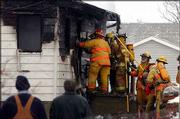 The fire was under control in about 30 minutes. Firefighters from Eudora Township and Wakarusa Township assisted. An ambulance from Lawrence-Douglas County Fire & Medical was called to stand by.
The body was found in a bedroom, McCabe said. It was taken to Frontier Forensics in Topeka for an autopsy, which was expected to be performed today.
The Eudora Police Department will investigate the fire. Though a cause is still to be determined, police don't suspect criminal activity, Long said.
The Kansas State Fire Marshal's Office also sent an investigator Thursday afternoon.
Neither McCabe nor Long could remember any other fire fatalities in Eudora. Fire Department records don't show any fatalities dating to 1970.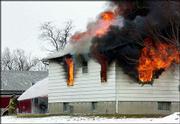 Copyright 2018 The Lawrence Journal-World. All rights reserved. This material may not be published, broadcast, rewritten or redistributed. We strive to uphold our values for every story published.