Standing on the lower level of what would become her new west Lawrence home last spring, Kalli McClure didn't know the tornado dancing outside would be the inspiration for a prize-winning ice cream.
Earlier this month, the Lawrence teen and her family were flown to Houston to take part in Edy's Grand Ice Cream "A Scoop of the USA" contest. The contest challenged youngsters across the country to come up with a new, creative ice cream representing the heritage of their home state.
Kalli, an eighth-grader at Southwest Junior High School, won the national title for her flavor, "We're not in Kansas anySmore."
"I really didn't think I was going to win," the 13-year-old said. "It was amazing how fast everything happened."
Kalli's creation combines "The Wizard of Oz" with her love for the weather. She describes her flavor as vanilla ice cream with clouds of marshmallows, a vortex of chocolate swirls, and graham cracker debris.
Fifteen finalists competed Dec. 11 in Houston. Other finalists included Alaska's "Eskimocha," Texas' "Pecan Pie ALAMOed" and Minnesota's "MinneSNOWta Mint."
"All of the flavors were outstanding, but 'We're not in Kansas anySmore' was the cream of the crop," said John Harrison, Edy's official taster.
Scott McClure, Kalli's father, said the family felt like movie stars, being escorted to their hotel from the airport in a limousine.
"(Edy's) did such a good job of making all the families and finalists feel special," he said.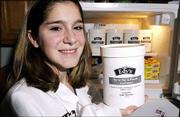 McClure said several moments during the trip had forecast Kalli's win.
As Kalli walked to the podium at the Marriott Galleria Hotel in Houston, a thunderstorm swelled outside, reminiscent of the storm that swooped up Dorothy and Toto in the "Wizard of Oz." On the plane ride to Houston, a stewardess sang part of "Over the Rainbow," perhaps the most famous song from the 1939 film.
And during a photo session for the finalists before a winner was announced, Kalli conveniently stood beneath the number one on an antique Edy's ice cream truck.
Families of the contest finalists were able to participate in nearly all the events for the nominees, including taste-testing and a tour of the Edy's plant in Houston.
"It was just pure fun," said Michelle McClure, Kalli's mother.
Kalli's winning flavor will be sold in stores across the United States for a limited time in 2004.
Though she won a year's supply of free ice cream from Edy's, Kalli McClure said she would buy her own batch -- after she finishes the eight quarts she already has. McClure also was awarded a $1,000 savings bond and won an ice cream party for her school.
Kalli said she was still in shock that what started as a study hall project had thrown her into the national spotlight.
"It's been real exciting and kind of weird," she said.
"The best part is knowing that everyone in the U.S. could be buying my ice cream."
Copyright 2017 The Lawrence Journal-World. All rights reserved. This material may not be published, broadcast, rewritten or redistributed. We strive to uphold our values for every story published.