At the beginning of last season, Lawrence High wrestling coach Mark Dulgarian posed a question to a group of freshmen wrestlers about their chances of going to state competition in Wichita.
"I asked them one day if I should reserve a (hotel) room," Dulgarian said.
Then, Nolan Kellerman spoke up.
"He basically said, 'I don't know about you, but we plan on going,'" Dulgarian said.
Everyone had a good chuckle.
"I told him to reserve a couple," Kellerman said. "I told him we'd have some freshmen at state."
Fast-forward one year: If there's one thing the group of eight sophomores on the Lions' squad doesn't lack, it is confidence. Experience usually can be a problem for second-year performers, but the octet doesn't seem to be lacking in that department either.
Last year three of them as freshman did make it to state -- Kellerman at the 140-pound weight division, Brendan Halpin at 135 pounds and Chris Cates at 103 pounds. All three finished second in their Class 6A sectional meet.
Cates posted a 19-5 record while going to state, and Kellerman and Halpin both went 17-8. No one placed at state, but that's the understood goal this year.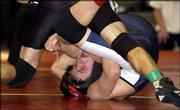 "They work hard. They know what it takes," Dulgarian said. "They have a good mental attitude. Part of wrestling is physical, but the other (part), as far as I'm concerned, is your mental frame. They don't like to lose, but these are the type of kids that learn from their mistakes."
Of the 28 sophomores, juniors and seniors that came out for the team this season, Dulgarian said 12 were sophomores.
But the wrestling mat isn't the only place the group has found success. Dulgarian coached a majority of the sophomores on the B team in football this fall. The Lions finished 7-1, which might actually be a disappointment to Kellerman, Halpin and Marc Albers.
For three years (seventh through ninth grades), the trio never lost a game as members of the South Junior High team, going 24-0.
The junior high juggernaut did have one scare, though, against Rockhurst in the fourth game of their ninth-grade campaign. South was down at halftime 7-0.
"It was a pretty big surprise," Halpin said, "but I thought all of us knew we weren't going to give up."
With 30 seconds remaining, South was clinging to an 8-7 lead and Rockhurst was driving until Kellerman, playing linebacker, snagged a pass and took it back for a touchdown to seal the victory.
During those years, South's rival, Southwest Junior High, put together solid seasons, too. Nathan Haig, Tom Willoughby and Chris Ermey -- all LHS sophomore wrestlers -- were members of that team. Southwest went 7-1 in eighth grade and 8-1 in ninth, both losses suffered at the hands of -- who else? -- South.
"It sucked," Willoughby said of last loss to South. "That was like the Super Bowl of our season and we were out coached."
Now the South and Southwest graduates are playing for one school in a different sport and are looking to help LHS improve on its 3-4 record going into the first day Friday of the Eudora Tournament of Champions. Halpin, Kellerman, Albers and Cates had a combined record of 23-8 so far this year.
The group said it had been a struggle so far, but give them some time.
"You look at them as losing matches now, but two years later, we're going to be pretty set," Kellerman said. "There's only been two state champions (at LHS). I think there'll be a few more out of this group."
Copyright 2018 The Lawrence Journal-World. All rights reserved. This material may not be published, broadcast, rewritten or redistributed. We strive to uphold our values for every story published.