When she looks at her surroundings Monday morning, Lawrence postmaster Judy Raney will see bigger crowds, longer lines and people carrying packages in all directions.
She won't need to crunch numbers to know that the holiday mailing rush has arrived.
"It's pretty visual," she said. "You can see it."
Throughout the week, the volume of mail delivered by the office could be roughly twice as much as what's delivered at other times of year, she said -- up to 280,000 pieces of mail per day compared with about 140,000 per day year-round.
"Our parcels that we're going to deliver this next week will be up probably 50 percent over normal, and it could be more than that," she said.
Nationwide, an improving economy means the Postal Service will handle 20 billion letters, packages and other items being sent to relatives, friends and Santa Claus this holiday season.
"Generally that economic news translates into additional volume for us," Postal Service chief operating officer Patrick Donahoe said this week in Washington, D.C. "We're expecting a very successful season."
Donahoe said the Postal Service already had seen a 1 percent increase in volume compared with the 2002 holiday season, and he expects that to go higher.
The 20 billion pieces of mail expected to flow through the Postal Service system this season represent a 50 percent increase in postmarks compared with the rest of the year. The heaviest mailing day should be Monday, with 850 million to 900 million letters and packages going out. Monday is also the last recommended day to send parcel post packages.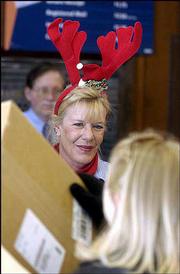 "It shouldn't be any different here" in Lawrence, Raney said.
The busiest delivery day would follow two days later.
To put it into perspective: The Postal Service's average of 670 million pieces of mail a day would circle the globe three times, but Dec. 15 could add another lap around.
Air cargo capacity will be increased by nearly 40 percent two weeks before Christmas, and hundreds of trucks will be added.
Post offices will be open later in the evenings and on weekends, including Sundays, during December.
However, the Postal Service plans to hire only 10,000 temporary employees, half as many as last season.
United Parcel Service and FedEx are making similar preparations.
To ship an estimated 300 million packages this season, UPS scheduled additional and late pickups for peak days. The parcel company is also adding nearly a dozen large jets to its air fleet, and will hire more than 50,000 temporary employees.
FedEx expects its average daily package volume to increase by around 20 percent and plans to hire several thousand people to help with the additional load. On its busiest day, Dec. 15, the company expects to handle around 7 million packages.
Recommended U.S. Postal Service deadlines to have mail delivered by Christmas Day:In the United States¢ Parcel Post: Monday¢ Priority Mail: Dec. 22¢ Express Mail: Use after Dec. 22. Express Mail delivery on Christmas Day will be available in many, but not all, locations.International mail¢ Global Airmail: Dec. 8-Monday, depending on destination¢ Global Express: Wednesday¢ Global Express Guaranteed: Dec. 22For troops in Iraq¢ Priority Mail: Check with post office for Military Express Service availability
Among the 2.8 billion holiday stamps the Postal Service is printing this season are images of a horn-playing Santa on roller skates and reindeers in suspenders. Other stamps celebrate Hanukkah, Kwanzaa and the Islamic holiday of Eid al-Fitr, and all will be available at 82,000 locations around the country, including 38,000 post offices.
Although the Postal Service delivers in some places on Christmas, customers are encouraged to mail earlier to have things arrive on time.
Also on the seasonal list of dos and don'ts:
Use tape, not string, on packages.
Don't guess the ZIP code. Go to the Postal Service web site or call (800) ASK-USPS.
Remove batteries from toys and wrap separately.
If reusing boxes, make sure old barcodes and addresses are covered.
If corresponding with Santa, don't put cookies in the envelope.
Raney offered three tips for holiday mailing: make sure it's well-cushioned, put the mailing address inside the box as well as outside, and pack your boxes before coming to the post office.
Copyright 2018 The Lawrence Journal-World. All rights reserved. This material may not be published, broadcast, rewritten or redistributed. We strive to uphold our values for every story published.