Shortly after 10 a.m., Lawrence police were investigating the report of a robbery at University National Bank, 1400 Kasold Drive.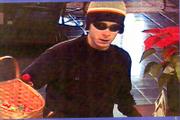 Early reports were that a man with a gun entered the bank and fired the weapon once before fleeing. The man was reported to be about 5 feet 9 inches tall, heavy set, and wearing a multi-colored stocking cap.
The thief made off with an undisclosed sum of money. Police were searching the nearby neighborhood in hopes of apprehending him. Apparently the snow made it easer to track which direction he fled.
Police have cordoned off a snow-covered area with police tape just to the northeast of the bank at the end of the strip mall in the 1400 block of Kasold Drive.
Copyright 2018 The Lawrence Journal-World. All rights reserved. This material may not be published, broadcast, rewritten or redistributed. We strive to uphold our values for every story published.