If you think you're stressed out by the prospect of cooking for family and friends during the holidays, consider Liz Karr's situation.
Karr, of Liz Karr Catering, 512 E. Ninth St., has worked in the restaurant, food and catering fields for 30 years and has had her own successful catering business for the past 10 years.
This time of year is her busiest.
"Holidays are crazy, very exciting. We book corporate parties and a lot of my regular clients a year in advance. Our parties start the day after Thanksgiving; they don't even wait for December to get here," Karr said.
"We do everything from dinners for two to parties for a thousand. We just catered a holiday event at the governor's house, and we're going to be catering for her (Kathleen Sebelius) from now on."
Plates of prime rib, beef and pork tenderloin, shrimp, salmon and lamb often appear on the menus of events Karr caters.
One of her recent holiday hits is Pork Tenderloin with Caramelized Onions, Poached Pears and Cabernet Syrup.
"People love it when we do it. The pears with the pork is a wonderful complement. It has hot chili pepper, cinnamon and black peppercorn. So you've got sweet, hot and spicy in this pork tenderloin -- a lot of flavors that people wouldn't normally think to put together. It's wonderful," Karr said.
And it's among a handful of favorite holiday recipes that five food experts and trained chefs from Lawrence shared with the Journal-World for others to enjoy.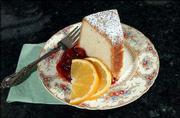 Their recipes range from Karr's main dish to an appetizer, a side dish and two desserts.
Karr said she is betting that Journal-World readers would get a good response to trying her pork tenderloin recipe this holiday season.
"This is something people don't make all the time. In fact, I served this meal to some foodies in town, and these people went absolutely crazy," she said.
Uncomplicated but good
Kristen Walker, manager of the health market at Hy-Vee Food Store, 4000 W. Sixth St., offered her recipe for an appetizer, Chevre (goat cheese) with Pesto and Raspberry Sauces.
"This was actually served at my wedding. We requested it specifically from the caterer, and they did an amazing job. The reason I chose it for this article is that it looks wonderful and just perfect for the holiday season," she said.
"The rich red of the raspberry sauce and the deep green of the pesto sauce look like they were made specifically for the season. It sounds kind of corny, but I've occasionally used those little silver balls that are used for decorating cookies, and sprinkled a few of them around just before serving."
Other holiday favorites that Walker said she has prepared to great effect are: Baked French Toast with Grand Marnier and Pecans, Roast of Prime Rib en Croute and a simple cocktail called Mimosa d' Marnier.
Hilary Brown, a baker at Teller's, 746 Mass., has had a longtime interest in natural, wholesome foods.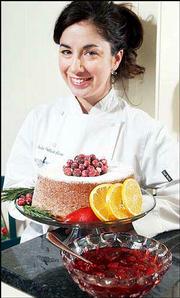 The 1994 graduate of Kansas University recently returned from a several-month stint at the Natural Gourmet Cookery School in New York City.
"It's a certified culinary school, focused on whole foods that have undergone minimal processing and refinement. The key word would be 'health supportive,'" Brown said.
Brown, who hopes to someday open a Lawrence restaurant geared toward people who are on special diets (such as low carb or diabetic), shared a recipe that she devised for Apple Sweet Potato Gratin.
"This recipe is so simple, but extraordinarily good. It just goes to show that food doesn't have to be complicated to taste good," she said.
"Preferably, I would select organic apples and sweet potatoes -- they don't cost that much more, they taste better and you can rest well knowing you are supporting a better way of life for your body and the environment," she said.
'Essence of festivity'
Baked goods, sweets and desserts are an important part of many holiday gatherings -- and they're an area of expertise for Marilyn Pollack Naron.
She is president of Windowsill Foods Inc., her Lawrence-based business that makes Scone on the Range, a line of frozen, ready-to-bake gourmet scones that are available at Hy-Vee and through her Web site.
Naron, who graduated from KU in 1989 and later from the Culinary School of Kendall College in Chicago, also ran a catering business called the Happy Ending for four years in Lawrence. She specialized in desserts.
Naron shared her recipe for Holiday Orange Cream Cheese Cake with Cranberry-Cherry Sauce.
"Using pound cake over the holidays has many advantages. You bake it in one pan, it keeps and travels incredibly well, and is quite versatile. You can dress it up with glaze and decorations, or just sit around dunking it in coffee," she said.
"When people want to make a showpiece dessert for after dinner, I'll sometimes recommend a tall pound cake because it's easier at home than tackling a complicated layer cake. After a huge holiday meal, guests often appreciate a simpler cake that's not swimming in frosting -- just a nice rich, buttery flavor with coffee."
Sula Teller, director of food services at the Community Mercantile Co-op, 901 Iowa, and Alison Olewnik, pastry chef at the co-op, shared a recipe for Chocolate Gingerbread Souffle Cakes.
"Ali and I used to serve this at PrairieFire (a downtown Lawrence restaurant that is closed). I spent a little time reworking Thomas Keller's recipe for his little molten chocolate cakes -- he's from the French Laundry (in Yountville, Calif.)," Teller said.
At a recent cooking class on chocolate baking at the co-op, Teller and Olewnik demonstrated the recipe for souffle cakes.
"People told us, 'This is the essence of festivity.' And it's so pretty. You can serve it with a little creme anglais or a dusting of cocoa, or you can just put a little whipped cream on it and a tiny gingerbread man on top," she said.
Copyright 2018 The Lawrence Journal-World. All rights reserved. This material may not be published, broadcast, rewritten or redistributed. We strive to uphold our values for every story published.