Another jamboree came and went Wednesday for Lawrence High, but the annual celebration of the Lions' fall sports never seems to get old.
"They love playing at Haskell Stadium," LHS football coach Dirk Wedd said of his team. "It's so Lawrence High. And it's always fun to play in front of your friends."
Several hundred students and as many parents and LHS boosters watched the Lion football and soccer teams scrimmage and the cross country team run a mile. In addition, the girls tennis, girls golf, volleyball and gymnastics teams were recognized.
The recognition alone is a big thrill for the athletes, even if they don't get to play in front of their supporters.
"They always enjoy coming out to the jamboree every year," LHS volleyball coach Jo Huntsinger said. "They try to figure out what they're going to wear, what shorts they're going to wear, how they're going to run out ... it's a big deal."
The Lions' boys soccer team will kick off its fall season with a 7 p.m. game Friday at Manhattan. The varsity and junior varsity squads scrimmaged Wednesday at Haskell Stadium, with the varsity prevailing 2-1. Ibrahim Bah and Ian Legler scored for the white team, while Tony Gatti scored for the red off an assist from Liam Kirby.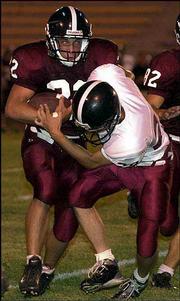 "A lot of credit for that goal goes to Liam," LHS soccer coach David Platt said. "Liam made that play, because he beat that defender on the outside, and he sliced it in to Tony. It was a beautiful pass."

Double duty: Speaking of Kirby, the junior by far had the busiest night Wednesday. Along with playing soccer for the Lions, Kirby is a kicker on the football squad, making him a part of both varsity scrimmages.
"Both the coaches have been very helpful," Kirby said. "I came to Lawrence High as a soccer player, and (the football coaches) know it's my number-one sport. But they're totally willing as long as I put the ball through the uprights."
He did, connecting on all four of his extra-point attempts in the red's 28-0 victory in the football scrimmage.
"I was asked to do this," Kirby said of the double duty, "and I was willing to do it. Anything for LHS."

Nice grass: A popular conversation topic at the jamboree was the tremendous shape of the Haskell Stadium field -- sometimes a mud puddle between the hash marks, the entire field was coated with a lush, green turf. "It's unbelievable," Wedd said. "You have to understand, this sod has had one game played on it. They sodded before our playoff game last year, and it hasn't been played on since. It's almost like a brand-new field."

Backfield logjam: Wedd is still trying to figure out who will replace Brandon McAnderson and Chris Fulton, two sensational running backs that graduated after combining for 3,100 rushing yards in 2002. Among those being considered for the job are seniors Brett Urban, Will Thomas and John Davis and juniors Jeff Colter, Ian Handshy and Jabril Richardson. "We feel really good about five or six of those backs," Wedd said. "They're all going to contribute."
Copyright 2018 The Lawrence Journal-World. All rights reserved. This material may not be published, broadcast, rewritten or redistributed. We strive to uphold our values for every story published.