Fort Riley — Traffic along 1st Division Road was oblivious to the danger waiting ahead.
Friday morning as cars and trucks moved about Fort Riley, a convoy approached an overpass. As soldiers fanned out, someone on the overpass threw an explosive device at them.
None of the soldiers were hurt, but the grenade-thrower was killed in the ensuing shootout with members of the 1st Infantry Division.
The grenade wasn't real, and the person who threw it arose later. His "death" was part of an exercise in ongoing training for 3,000 soldiers who will leave the U.S. Army post in late August for a year's tour in Iraq.
"It takes away some of the apprehension, some of the nervousness," said. Col. Buck Connor, commander of the 1st Brigade, 1st Infantry Division, as the exercise concluded.
Soldiers of the 1st Brigade originally were scheduled to go to the National Training Center at Fort Irwin, Calif., in the Mojave Desert, but, as Connor said, the soldiers are now destined for a bigger, hotter desert.
The 1st Brigade is to join 3,000 soldiers of the 3rd Brigade, 1st Armored Division, and the 937th Engineer Group already in Iraq.
Connor, his staff and a dozen reporters observed the exercise. Training for such situations is not new for the military, Connor said. Soldiers have engaged in urban warfare dating to the European campaign in World War II.
Pfc. Louis Good said the tactics used by forces loyal to Saddam Hussein were not the same as those used in a conventional war, or when the Iraq war started. Good was in Iraq until two months ago and said soldiers knew their enemy and the weapons they carried.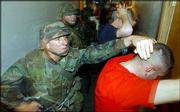 "That clear, distinct target isn't there," said Good, 21, from North Cambria, Pa. "It's a different environment than when I was there."
Connor said the brigade was getting good intelligence from divisions already in Iraq about what dangers to expect. Concern -- and thus Friday's training exercise -- include the ambush of convoys and identifying hostile forces among civilians.
"We can be in a firefight and two blocks later be handing out soccer balls," Connor said. "That's why we have an advantage -- because we can talk about things."
Said Good, "It's that mix between total chaos and control."
Sixty Americans have died since May 1, when President Bush declared major combat over in Iraq.
At other locations on the post, soldiers rehearsed building searches, looking for hostile forces, explosives and former Iraqi leaders.
Pfc. Jeff Chancellor, of Dallas, described himself as a sponge.
"I'm absorbing every second of training," Chancellor said.
Spec. Aaron Goodman, 30, of Earl Park, Ind., said the mission would call upon his skills and require confidence in his comrades.
"I'll watch his back and he'll watch mine," said Goodman, speaking of Good. "My friends are my first priority.
Copyright 2018 The Associated Press. All rights reserved. This material may not be published, broadcast, rewritten or redistributed. We strive to uphold our values for every story published.