Simplicity is the key to style this year on campus.
Christina Schenstrom, a Kansas University junior from Santa Cruz, Bolivia, said students should keep their look modest and wear clothes in which they feel comfortable.
"It's important not to overdo it," she said. "You want to look good, but not seem like you're trying too hard."
To that extent, she said, girls should wear enough makeup to highlight their good features, but should keep cosmetics to a minimum.
Sarah Rexroad and Ashlee Marshall, both KU juniors and employees at Ginger and Maryanne, 914 Mass., said simple patterns and cuts, such as polka dots, A-line skirts and V-necks sold well from their store. They predicted warm colors such as red, orange and brown would be in fashion come fall. To complement such colors, they said, gold jewelry would probably be the rage.
To add subtle style to an ordinary look, Marshall suggested shopping carefully for jeans. She said a stylish pair of jeans with the right fit and design could add pizzazz to the typical student attire.
"A good pair of jeans will get you a long way," she said. "That's all students wear. Comfort is a huge thing for students."
Mark Swanson, owner of Hobbs Inc., 700 Mass., said trendy jeans were also a must for men. He said darker colors, like washed-out black, would become more popular as fall approached. For men's jeans, he said, the right wash was the most important.
"The fashion drive is still casual with a denim attitude," he said.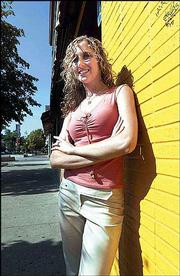 Casual comfort is also the key to shoes for campus. Tim Arensberg, owner of Arensberg Shoes, 825 Mass., said Merrell suede slip-ons were popular for women because they were good on the hill yet still within student budgets.
"They give you a lot of comfort for the money," he said.
For men, Arensberg said Camper shoes were popular because they were comfortable and had a bowling-shoe type style.
For going out, Arensberg said the store was anticipating boots to be in style. He said last year he began seeing high-heeled or pointed-toe boots for women rise in popularity, and expected the trend to continue.
Old fashion turned new
Retro styles are also big for students.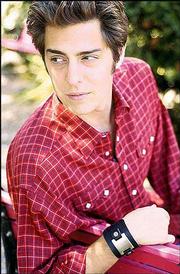 Swanson said box-cut bowling or camp shirts reminiscent of a 50s style were popular items for young men.
Women are also into the retro look, said both Schenstrom and Terry Williams, assistant manager at Arizona Trading Co., 734 Mass.
"What I've been seeing is mod styles like bright-colored tights," Williams said.
Williams said heat in the summer and early school year could make it difficult to find a look that is both stylish and comfortable. She said some looks to keep cool include mesh hats and cheerleader-style skirts. She also recommended long scarfs come fall to add an easy kick to any wardrobe.
Other accessories can also add style, said Schenstrom. She said she had seen students wearing belts of every style and material. She also said funky, colorful jewelry was popular among students.
As for hair, Schenstrom said straight is the style for females today, but that could be difficult to do on a student's tight schedule. Therefore, she said, many women on campus wore their hair in braids or other up-dos and accented with hats and headbands.
Copyright 2018 The Lawrence Journal-World. All rights reserved. This material may not be published, broadcast, rewritten or redistributed. We strive to uphold our values for every story published.