Steve Hedden says art exhibits and concerts -- not just new homes and businesses -- could be a good indicator of Lawrence's economic health.
Hedden, who started in July as dean of Kansas University's school of fine arts, said he wants to play an active role in helping build Lawrence's tourism industry around the arts.
"The continued health of the arts in a city has a great deal to say about economic health," he said. "I want to look at ways in which the arts will continue to be an economic engine."
Hedden, 60, comes to KU from Wichita State University, where he served as dean of the college of fine arts for a year. His other university teaching experience includes 15 years at the University of Iowa and 13 years at the University of Arizona.
He earned bachelor's, master's and doctoral degrees from KU, in 1964, 1969 and 1971, respectively.
Artistic beginning
Hedden credits a strong music program in his hometown of Colby for sparking his career in the arts. Colby also turned out Sam Ramey, Hedden's best friend from elementary school who went on to be the most-recorded and best-known bass singer in the world.
Hedden remembers walking past the house of Bill Wilson, who later served 20 years as director of human resources for Lawrence Public Schools, and hearing Wilson practicing his trombone inside. Hedden started playing trombone in fifth grade.
"It was one of those situations many young people who start in band have," Hedden said. "They hear an instrument and have to play it."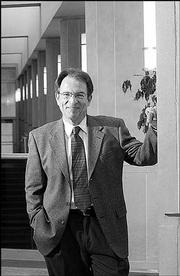 He enjoyed music enough to make it a career. After graduating from KU in 1964, he directed bands at De Soto public schools while working on his graduate degrees.
His university-level teaching included courses in acoustics, psychology of music, curriculum development and instrumental method courses.
Hedden said his eclectic interests in the arts -- including classical music, art museums and dance troupes -- cultivated his interest in administration. The shift has broadened his philosophies toward education.
"In De Soto, the band had 40 players and I had an opportunity to have an impact on young people," he said. "Looking at the enrollment of KU, you look at having an impact on 1,300 majors and all the other students taking classes in the school."
City of the arts
While he's not sure what it will take to increase Lawrence's economic impact in the arts, he said attracting more shows to the Lied Center and following through with plans to build an amphitheater near Clinton Lake could be part of the equation.
A study released earlier this year showed arts-related events already made a big mark on the Lawrence economy. That survey indicated the arts brought $33.46 million to the economy in 2000.
Hedden said keeping Lawrence's "City of the Arts" reputation during a time of fast growth will be a challenge. But KU's presence was a key to maintaining an arts-friendly town.
"There's a whole kind of college town feel that I experience in Lawrence," he said. "I experienced it in Iowa City, Iowa and noticed it as a visitor in Boulder, Colo., and Madison, Wisc. There's an energy here. There are so many communities that envy what Lawrence has."
Copyright 2018 The Lawrence Journal-World. All rights reserved. This material may not be published, broadcast, rewritten or redistributed. We strive to uphold our values for every story published.