A battle is brewing along the shady streets of the Pinckney neighborhood.
It's a battle over history, and the best way to protect it.
Some neighbors are supporting the city's nomination of several city blocks as a National Historic District. They say it would help preserve one of Lawrence's oldest neighborhoods.
Others say it's a designation they don't want.
Opponents fear the accompanying tax incentives would invite gentrification, increasing values and pushing out residents who lack deep pockets. And the building restrictions imposed on properties in and near such a district are a concern even to those who prefer the area just as it is.
"I would like to see it maintain its eclectic character," said Shellie Bender, whose home at 425 Ohio is at the edge of one of two districts proposed within the neighborhood. But "the homes not eligible for the tax credits will still be subject to the regulations."
Similar battles soon could heat up in the city's other core neighborhoods.
The proposed district that has excited opposition in Pinckney -- which is north of Sixth Street between Ohio and Indiana streets -- is one of five being considered across the city. Plans are in the works for historic districts along Rhode Island Street in East Lawrence and downtown. Together, the districts would include much of the city's core.
Too many unknowns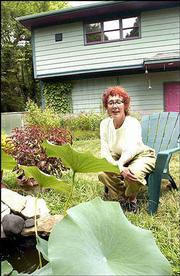 In Pinckney, where neighbors will gather this morning to discuss the proposal, some residents say they knew nothing about the district until seeing recent news stories. That's frustrating, they say, because most of the groundwork for the nomination was done in 1997, when the city received a grant for historic preservation and filed a multiple district nomination with the federal Department of the Interior.
"I feel like they've drummed up a lot of support from people who don't really know what is going on," said Niki Christopher, whose home at 436 La. would be subject to regulation because of its proximity to the district.
Here's why: Homes within a district that are deemed historic or contributing to the historic character of the neighborhood would be eligible for tax credits for improvements.
The tax credits are awarded only to property owners making improvements valued at more than $5,000 -- and that meet Interior Department guidelines for historic restoration or renovation. Most new construction and landscaping are not eligible for credits, according to the Kansas State Historic Preservation Office.
"It'll gentrify certain homes," Christopher predicted. "It'll enable people who have big projects to do to get tax credits, and it'll hinder small projects."
But the regulations require such projects get an OK from the city's Historic Resources Commission. So would a project at any property within 500 feet of the district.
People who live in the district received packets of information from the city this week explaining the Historic Resources Commission review process and how to apply for tax credits.
"But we still don't know which homes are classified historic, which homes are classified contributors and which aren't," Bender said.
Neighborhood discussion
The Pinckney Neighborhood Assn. will have a neighborhood meeting at 10 a.m. today at Lawrence Memorial Hospital Conference Room D to discuss the new district. Bender said she hoped the meeting would be well attended.
"I just want everybody to come ... and bring their questions," Bender said, "so they can know exactly what's happening."
The designation proposals must be approved by the City Commission before they are forwarded for final approval to the National Registry of Historic Districts. Assistant City Manager Dave Corliss said the city commission was "looking forward to receiving the proposals and hearing public comment."
Copyright 2018 The Lawrence Journal-World. All rights reserved. This material may not be published, broadcast, rewritten or redistributed. We strive to uphold our values for every story published.