For years, the Kansas Union has wanted students to think of the union as the living room of the campus. Now, they wouldn't mind if students thought of it as a bit of a mini-mall, too.
The KU Memorial Corp., the nonprofit group that operates both the Kansas and Burge unions, has begun a program to add more retail and commercial services to its facilities.
In the past year, the Kansas Union has added a travel agency, a barber shop and a wireless telephone store.
"We've been trying to find services that still meet our mission of being the living room of the campus, but also are services that students and faculty need," said Pat Beard, director of building services.
The Kansas Union added STA Travel in December, Beard said. The union hadn't had a travel agency since an area travel agency closed its union office in 1998.
Beard said union officials felt there was a void when the firm left because many students, faculty and particularly international students have above-average travel needs. The company issued a national request for proposals and found STA Travel, which specializes in student travel and has offices in many student unions across the country.
A remodeling project at the union also created more room for additional businesses. Beard said union officials rearranged the third floor by combining several of the union's eating establishments into a new food court area called The Market.
The rearrangement cleared the way for a Great Clips hair service that opened in March and a T-Mobile wireless phone store that opened in April.
Beard said union officials pursued a hair service business because they had been well-received in several other student unions across the country. Beard said they came up with the idea for a wireless phone store just by looking around at all the students that walked through the union.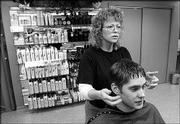 "Everybody has a cell phone these days," Beard said. "It just seemed like a good service that lots of people would use."
The remodeling also opened space for a Footprints store, which will be a sister to the Footprints at 1339 Mass. The store, which sells Birkenstock shoes and sandals, should be open in time for fall classes, owner Mick Ranney said.
Ranney said a shoe store wasn't the traditional type of business that would locate in a student union, but said it should open new opportunities for his business.
"We have a retail store just four blocks from the union, so, at first glance, it was like why bother," Ranney said. "But I think we have kind of ignored the students. We haven't taken them for granted, but we haven't marketed to them any differently than we have anybody else. This should give us the opportunity to do that."
For example, Ranney said the union store would be an outlet store that would offer closeout and discounted merchandise.
"There is just an awful lot of traffic that goes by there," Ranney said. "We're thinking people might buy something on impulse if it is at a great price."
Beard said about a million people a year walked through the union and that it had received good interest from businesses looking to locate in the building, in part because the union has committed to not allow two stores of the same type.
In the past year, Great Clips, STA Travel, T-Mobile, Footprints and Westside Deli have opened businesses in the Kansas Union.
In late July, union officials also announced they had struck a deal with Westside Deli & Market, 4931 W. Sixth St., to take over the third floor spot previously home to the Prairie Room restaurant and Wheat Wavers snack bar.
Beard said union officials believed dining service business would increase if the Prairie Room was replaced by a business that had greater name recognition in the community.
Michael Levy, Westside owner, said the new restaurant, which officially will be called Westside Deli & Market at the Union, will have a wide selection of menu offerings, including soups, salads, sandwiches, desserts, and entrees such as steak and fresh seafood.
He said he's trying to design the restaurant to appeal to both students and faculty by offering full service dining and a take-out window.
The shops and restaurants ultimately are good for the union's core businesses, Beard said.
"They are all good traffic producers for the union," he said. "It gets people to come in and use our bookstore and our food services."
Copyright 2018 The Lawrence Journal-World. All rights reserved. This material may not be published, broadcast, rewritten or redistributed. We strive to uphold our values for every story published.