Nevada, Iowa — Democratic presidential candidate Howard Dean backed away from his pledge to adhere to campaign spending limits, saying some advisers want to explore opting out of the Watergate-era public financing system because of his sudden fund-raising success.
Dean said he still intended to accept some taxpayer money and spending restraints and suggested he had discouraged his staff from considering alternatives right now. But he left open the possibility of following President Bush's lead in rejecting public financing.
"Could we change our mind? Sure," he said. "But I really don't want to do that."
Just five months ago, Dean committed to accepting taxpayer money and vowed to attack any Democrat who didn't.
The about-face follows his emergence as the Democratic Party's biggest fund-raising threat. Dean collected $7.6 million in the fund-raising quarter that ended June 30, more than his eight rivals, and aides said Friday that he was on pace to far exceed that total in the next quarter.
In an interview Thursday, the former Vermont governor said he did not recall promising to accept public financing and the limits that go with it. Under a program designed to curb special interest influence, candidates who agree to state-by-state and overall spending limits get federal matching dollars for the first $250 of each donation they receive.
"I was asked very early on and I said I intend to take the match," Dean said. "I think what I said is that we weren't looking into that as an option."
However, in a March 7 interview with The Associated Press, Dean committed to accept the taxpayer money. The promise was echoed by a campaign spokesperson.
"We've always been committed to this. Campaign finance reform is just something I believe in," Dean said in March.
Dean also said his position was not based on any political considerations, such as the size of the field or how much money he could raise.
On Friday, however, Dean cited Bush's plans to raise $200 million -- five times the spending limit -- as a reason for keeping his options open.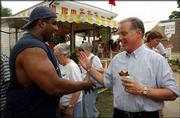 Copyright 2018 The Associated Press. All rights reserved. This material may not be published, broadcast, rewritten or redistributed. We strive to uphold our values for every story published.