Crossing guard Jan Hurst glanced left and right three times Friday before raising her red-and-white stop sign to halt dozens of vehicles next to Cordley School.
Only then did she permit Lori Fowler and her two children, Madison and Mason, to cross the intersection at 19th and Vermont streets. There's no traffic light and the crossing was, as always on weekday afternoons, a beehive of vehicular and pedestrian traffic.
"Expect the unexpected," Hurst said as a truck whipped past in excess of the 30 mph speed limit.
Hurst and 10 other orange-vested guardian angels of Lawrence schoolchildren are responsible for 18 high-traffic intersections.
It's a duty performed in pouring rain, searing sun and bitter cold, and it's a function few could imagine doing without.
"I can't," said Randy Weseman, Lawrence's superintendent. "They're critical in terms of moving kids."
Crossing guards are employees of the city, not the school district. And in tight budget times, elimination of crossing guards is a possibility. The Lawrence City Commission this summer pondered millions of dollars in possible budget cuts, including deletion of the crossing guard force to save $95,000 a year.
"The City Commission didn't take that option. There wasn't a lot of discussion about it," said Mike Wildgen, Lawrence city manager.
The Lawrence school board's vote to close three elementary schools -- Centennial, Riverside and East Heights -- in May allowed the city to drop three crossing-guard sites when classes started this week. One site was added at 19th and Louisiana streets, on a temporary basis, to determine whether former Centennial students will need assistance making it to Cordley.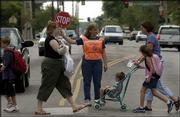 The city will conduct a pedestrian count in a couple of weeks to see if that intersection meets guidelines for a permanent guard. Friday, foot traffic among elementary students was light.
The city can get by with 11 people covering 18 sites because staggered elementary school starting times permit some staff to work outside two sites.
Weseman said that if the city ever cut crossing guards from its budget, the district would respond.
"We'd have to look at how we fund it," he said. "The safety of these kids is foremost in our mind."
Fowler, who escorted Madison, a first-grader, home from Cordley, said adults, let alone children, had difficulty maneuvering across 19th Street without a crossing guard.
"I almost got hit by a bus," she said. "He was going pretty fast."
Getting rid of crossing guards would be a mistake with life-safety consequences, Fowler said.
The trio of crossing guards spread across six blocks of 19th Street -- Debra Morgan, Donna Tibbits and Hurst -- can attest to the challenge of traversing intersections at Louisiana, Vermont and Massachusetts streets.
They've witness numerous fender-benders along that stretch of asphalt.
"I've almost been hit twice stepping off the curb," said Morgan, who covers 19th and Massachusetts streets for Cordley and Fifth and Maine streets for Pinckney School.
Crossing guard locations: 27th and Louisiana streets, 19th and Louisiana, 19th and Vermont, 19th and Massachusetts, Princeton Boulevard and Lawrence Avenue, Harvard Road and Iowa, 19th and Harper, 15th and Maple Lane, 27th and Mayfair Drive, 28th and Kensington Road, Sixth and Mississippi, Fifth and Maine, Inverness Drive and Winged Foot Court, 23rd and Ousdahl Road, 22nd and Ousdahl, Harvard Road and Kasold Drive, Fourth and Locust, Seventh and Locust.
In her 10th year on the job, Hurst said the traffic along 19th Street got more dense with each passing year.
A front-seat view of the action has taught her to watch both the lead vehicle in a line of traffic and the second. The trailing car can easily shove the first into pedestrians, she said.
She also said car manufacturers installed turn signals for a reason.
"That's how we know what you're going to do."
Another lesson is that motorists who have stopped to let a child cross the street shouldn't hit the accelerator until that boy or girl has completely cleared the intersection, Hurst said.
"Wait until the kid is all the way across," she said. "Many times they'll stop, turn around and go back. Better safe than sorry."
Copyright 2018 The Lawrence Journal-World. All rights reserved. This material may not be published, broadcast, rewritten or redistributed. We strive to uphold our values for every story published.