Vinland — A crowd of about 40 people stood cheering as the children tried to toss bales of hay.
Shouts of "C'mon!" and "Get it up there!" Friday encouraged the children -- ages 8, 9 and 10 -- to lift the bales 5 to 6 feet into the shovel of a tractor. It was just one of the many events for children at the Vinland Fair, which began Thursday and ends this evening.
The children competed in boys and girls groups. The prizes: a quarter for a fourth-place showing and going up to a dollar for first place.
"They just love to get those quarters," Lisa Pattrick, of Baldwin, said. "Then they can turn right around and spend it on candy."
Emily Harvey, 9, of Omaha, Neb., took second place and its 75-cent prize. She was visiting grandparents who live in Vinland and had never lifted a bale of hay before.
"I didn't even know how heavy it was at first. I thought it would be really light," Emily said. "But it was really easy once you knew how heavy it was."
Just behind the hay-bale toss, a mud track was being watered-down and flattened for Friday's big event: an antique tractor pull.
Other events -- including a pet parade, animal shows and homemade pie and cake contests -- fill the three-day fair.
The fair, in the small town of Vinland, about 10 miles south and east of Lawrence, is in its 96th year. Mary Gensler, organizer, said the fair had stayed small every year in order to make it safe and enjoyable for children.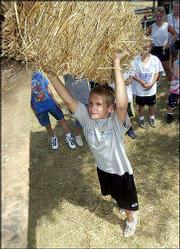 "We could probably commercialize and make more money, but we don't want to," Gensler said.
The fair is a chance for the Vinland community to get together, sometimes the only time people see each other all year. Many strive to not miss a year.
Gensler said she had attended annually since 1948, though she missed two fairs when she lived in Perry for a few years -- a fact that surprised her granddaughter.
"You not come to the Vinland Fair? You didn't come and work the pop stand?" Amanda Helm, of Baldwin, asked her grandmother.
The smaller-scale fair also attracts those from neighboring communities.
Pattrick said she had been bringing her children from Baldwin for about six years. This year, they entered their goat, rabbit and several crafts in the shows.
"It's just something we plan on every year," Pattrick said.
The fair's final event is the homemade ice cream competition at 7 p.m. today.
Copyright 2018 The Lawrence Journal-World. All rights reserved. This material may not be published, broadcast, rewritten or redistributed. We strive to uphold our values for every story published.