OK, maybe I shouldn't have been that surprised. After all, there was a peacock running loose in the city the previous day.
But among the last things I expected to see Thursday evening on Kansas University's west campus was a mountain lion.
I was driving the route for the Crosstown Unity Run, the 10K road race to be staged this morning from Free State High School in northwest Lawrence to Lawrence High School, which is just south and east of KU.
I wasn't sure if the route would be the same this year.
But last year the route entered KU's west campus at a maintenance road off 15th Street near Lawrence Avenue and snaked east around a steep road that leads to the new Dole Institute of Politics and the Lied Center.
As my wife, Diane, and I turned a curve to enter that steep road about 7:10 p.m. Thursday, we saw the animal.
It was about 100 feet ahead of us, walking on the left side of the road, heading uphill.
"Look at that," Diane said. "What is that?"
It was dark brown in color, walking smoothly, like a cat. But it was much bigger than a cat, or even most dogs. It had a thick long tail and a relatively small head. As we approached, it slipped into the thick growth of trees and brush and was gone.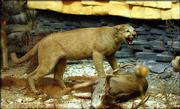 "That had to be a mountain lion," I said.
My first thought was somebody's exotic pet got loose.
Several years ago I interviewed a man who lived near West Junior High School who had a pet mountain lion (the city eventually made him get rid of it). So I knew firsthand what they looked like.
We slowed the van and looked into the brush where the animal went. For a second, I thought about getting out of the car and looking around.
But good sense overtook me -- the hilly area was fairly secluded and wooded. And I didn't want to tangle with a 100-plus pound animal with teeth and claws. Especially if it might be wild.
"Until we drove that route, I never realized what a densely wooded area there was right in the middle of the city," Diane said.
After we got home, we talked about it a bit.
"It was black, very sleek and obviously a wild animal," she said.
We both also talked about how safe that area would be for runners or race workers today.
I called the KU police dispatcher to tell them what we had seen and share our concern for today's runners.
"That's interesting," the dispatcher said. She was polite but didn't seem to be too concerned. I felt a little like I was reporting a UFO.
I did a little research and learned that mountain lions hadn't made their habitat in Kansas for more than a century.
The last area report of one was in October 2002, when a driver struck and killed a mountain lion on Interstate 70 in the Kansas City metro area.
Researchers announced in March they had examined the contents of its stomach and thought that particular mountain lion was probably wild and was roaming through the state and was not a pet that had become loose.
Norm Slade, curator of mammals at KU's Natural History Museum, told me Friday he received calls every once in awhile about mountain lions that had been spotted.
"To my knowledge there has not been a confirmed sighting in Kansas for years. Some have escaped from captivity," he said.
The most recent call was from a woman who said she spotted one on Kansas Highway 10. The woman said it was in a ditch, its tail pointing toward the road. She even gave him the mile marker number.
When Slade and others went out to investigate, they found a big yellow muffler from a truck with a tailpipe pointed toward the road.
I called Sgt. Mike Pattrick, with the Lawrence Police Department, to see if anyone else had reported anything in the west campus area.
"I've got nothing," Pattrick said. "We had one barking dog last night, and that's it."
Like just about everyone else, Pattrick asked me if I was sure it wasn't a bobcat, which have been seen in that area. But the animal we saw had a long tail. Bobcats have short tails.
My wife told our neighbor, Mike, about our little wildlife encounter.
"Maybe that will make the runners go a little bit faster," he joked.
Copyright 2018 The Lawrence Journal-World. All rights reserved. This material may not be published, broadcast, rewritten or redistributed. We strive to uphold our values for every story published.