They weren't involved in combat, but they represent the last link to one of America's historic military units as well as a link to black history.
Tuesday night three men who served during World War II with the famed Tuskegee Airmen spoke at the Dorsey-Liberty American Legion Post No. 14, 3408 W. Sixth St.
"These guys can tell their stories, but they're pretty modest," said Edward King, vice president of the Heart of America Chapter of the Tuskegee Airmen Inc., who accompanied the original members of the unit.
King noted that the Tuskegee Airmen never lost an American bomber they escorted and that they shot down the first German jet.
At least 50 Legion members and visitors listened to the stories from Harvey Bayless, a communications maintenance officer; Wilson Clemmons, an ordnance officer who also served as a Buffalo soldier at Fort Leavenworth; and John Adams, a pilot. All are in their late 70s and 80s and are from the Kansas City area.
Unexpectedly, however, a fourth former Tuskegee member showed up at the Legion. Thaddeus Whayne, a former Kirkwood, Mo., resident now living in Lawrence, said he heard about the legion meeting and decided to show up.
"We walked into the room today and found out you already had a Tuskegee Airman here," said Ormer Rogers, president of the Tuskegee chapter.
Whayne was a payroll clerk.
"Throughout history African-Americans have been there when you needed us," Bayless, the chapter historian, said.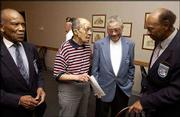 Bayless also commended President Harry Truman for integrating the military after World War II. The military sets a good example for how the rest of the country should handle race relations, Bayless said.
Adams completed training as a fighter pilot just as the war was drawing to an end. He said he was disappointed that he never made it to Europe to fly with the other Tuskegee fighter pilots.
"You shoot for the stars, and even though you only hit the tree tops, you're not on the ground doing nothing," Adams said.
Copyright 2018 The Lawrence Journal-World. All rights reserved. This material may not be published, broadcast, rewritten or redistributed. We strive to uphold our values for every story published.