The funk has hit Lawrence High's baseball team.
Shawnee Mission North handed LHS a 7-5 loss Tuesday at Ice Field, the Lions' second straight loss and third in four games. They committed six errors, stranded nine runners and were held to seven hits.
"The problem is not physical. We're not doing anything different than we did in the first seven games," LHS coach David Petry said. "That's my fault. It's my job to get them ready to play, and we have not been ready the last four games.
"I don't know what's wrong, but I'm going to get it figured out."
The Lions (8-3) haven't resembled the team that started the season 7-0, though they're still Class 6A's fifth-ranked team by the Kansas Baseball Coaches Assn. After blowing a three-run lead Saturday against Blue Valley North, LHS opened Tuesday's game with runners at second and third with no outs.
Yet, the Lions ended the inning with back-to-back strikeouts, stranding the runners.
It was that kind of game.
The Indians (5-3) scored first, capitalizing on two LHS errors in the second inning. The Lions responded with two in the bottom of the second, when LHS senior Matt Johnson singled in senior Spence Chaney and junior Ryan Engel.
But LHS didn't score again until the fifth inning when they were down 7-2.
"After awhile it just snowballs," Johnson said. "We're not coming up with any timely hits. We just need to put the ball in play and be aggressive. We're taking too many balls.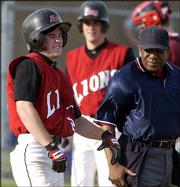 "It's a game of failure and if you let it get to you, you can't do much about it."
Johnson went 3-for-4, raising his average to .406, but he was the only Lion with more than one hit.
LHS added two more runs in the sixth, when seniors Austin Engling and Dominick Harrell both scored on wild pitches, cutting the lead to 7-4.
Senior Aaron Madill was hit by a pitch to open the seventh inning. He stole second, then scored on senior Ryan Rowland's double, bringing the Lions to within two runs with no outs.
Indians pitcher Eric Hein retired the next three LHS batters, though, and the Lions left dejected.
"I told them a lot of teams would be thrilled to be 8-3," Petry said. "But you can't feel good about losing three of your last four games."
They'll have a chance to right things Thursday at Ice Field against Shawnee Mission East. The Lancers (2-8) don't look impressive on paper, but played undefeated Free State tough last Friday, before losing 11-10.
That's what worries Petry.
"They're a team that hits the ball well and plays aggressive," he said. "I talked to their coach, and they haven't been blown out of a lot games. They've been close in most of them. It's gonna be a tough game for us. Thursday, we've got to get it going."
Shawnee Mission North 7, Lawrence 5
SMN 010 510 0 -- 7 6 2
LHS 020 002 1 -- 5 7 6
W -- Logan Smith; L -- Taylor Martin (1-1)
2B -- SMN: Brett Woods, Bryan Bennett; LHS: Matt Johnson, Ryan Rowland.
LHS highlights: Johnson, 3-for-4, 2 RBI; John Parker, 2 1/3 innings in relief, 2 hits, 1 run, 5 strikeouts.
Next for LHS: Thursday against SM East at Ice Field.
Copyright 2018 The Lawrence Journal-World. All rights reserved. This material may not be published, broadcast, rewritten or redistributed. We strive to uphold our values for every story published.