Two things stand out in Joan Golden's office: a bulging datebook and a dozen or so pictures of her family.
In the 30-odd years since Golden and her husband returned to Lawrence from the East Coast, she's raised two daughters, welcomed six grandchildren into the family, became senior vice president of development at USbank and volunteered for a score of organizations and boards of directors.
"I don't sit down very much," she said.
To recognize her contributions to the community, the chamber of commerce named Golden this year's winner of the Athena Award. The award is aimed at celebrating the potential of all women as valued members and leaders of the community.
The Athena Award is presented to individuals who strive toward the highest levels of professional accomplishment, said Cathy Lewis, the chamber's vice president for membership, and that included devoting time and energy to the community and opening paths for others to follow.
It's a bill Golden easily fits.
She's served as chairwoman for all sorts of organizations, just a couple of which are the Business/Education Partnership board of directors and the Friends of the Lied Center 2003-04 campaign.
The incoming chamber treasurer, Golden is an elder of First Presbyterian Church and she's taught Sunday School for 29 years.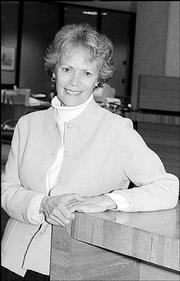 And most rewarding, she said, are those experiences when she has dealt with young people, such as working with Kansas University's Student Union Activities or serving on the citizen's review board for juvenile offenders.
"I'm more willing to say yes if there is a direct correlation to working with youth," she said.
Golden is the model of a woman who has mastered the balance of family and professional life, said Sarah Martin, director of Business/Education Partnership for Lawrence schools.
And Judy L. Wright, a past Athena Award recipient, called Golden a leader by example.
"She accepts difficult challenges with enthusiasm, and encourages, in her own quiet way, others to work with her to achieve important goals," she said.
Golden said she was inspired to get involved in the community by involved parents, a friendly neighbor and a supportive husband.
And she said she hoped she could be an example to other women.
"Reflect on what it is you yourself enjoy doing and share it with another person," she said, adding that it could be as simple as having coffee with a friend who needs a boost. "You can find one thing that gives you satisfaction."
Copyright 2018 The Lawrence Journal-World. All rights reserved. This material may not be published, broadcast, rewritten or redistributed. We strive to uphold our values for every story published.