Iraq Chalk Jayhawk!
As U.S. forces advanced on the Iraqi capital of Baghdad, fraternity brothers and friends of Capt. Brad Loudon, a 1997 Kansas University graduate, were circulating this photo of Loudon that they found in their email inboxes along with a message from him early Friday morning.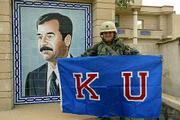 Sigma Phi Epsilon brother Jason Zuba said he found the image in his inbox this morning at work in Overland Park.
Zuba said Loudon told friends he was doing well. Zuba said he thinks the picture was taken on the outskirts of Baghdad. He said Loudon, a former ROTC student at KU, is attached with an armored unit.
Read the full story in Saturday's Journal-World
"He's fighting for his life, yet he can't wait until tip-off time" for the KU-Marquette game on Saturday, Zuba said.
Loudon's dad, Byron Loudon of Overland Park, said his son has always been a big KU basketball fan. In junior high school, the younger Loudon and some friends went to an Overland Park hotel and talked dejected Duke fans out of their national championship game ticket. Loudon's dad said his son bagged some tickets and got to go to the KU-Oklahoma game, which KU won.
"He's a big KU basketball fan, no doubt about it," the elder Loudon said. "Obviously he's got other
commitments right now."
Copyright 2018 The Lawrence Journal-World. All rights reserved. This material may not be published, broadcast, rewritten or redistributed. We strive to uphold our values for every story published.