The Kansas University Alumni Association on Friday gave its highest honor to three people who worked to improve diversity at KU in the areas of disability awareness, race and the arts.
The Alumni Association awarded the Fred Ellsworth Medallion to R.A. Edwards, Cordell D. Meeks Jr. and James E. Seaver during a dinner at the Adams Alumni Center.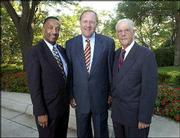 "I was in shock ? total disbelief," said Meeks, a Wyandotte County District Court judge, during a reception Friday night at Chancellor Robert Hemenway's house. "It means a lot to me to be honored by such a great institution."
The Ellsworth Medallion has been given annually since 1975 to people who show extraordinary service to KU. It's named for the Alumni Association's longtime secretary, Fred Ellsworth, who retired in 1963 after 39 years in the job.
Winners are chosen by representatives of the chancellor's office and the KU alumni, athletics and endowment associations.
"I was very, very honored," Edwards said. "I feel like there are others more deserving than me. This means so much to my entire family."
Edwards, who earned degrees from KU in 1967 and 1973, is president and CEO of First National Bank in Hutchinson. He helped found Natural Ties at KU, which supports friendships between KU students and people with disabilities.
Edwards has helped recruit students to KU as an alumni volunteer for the Office of Admissions and Scholarships. He also has been a member of Jayhawks for Higher Education, an alumni lobbyist group, and an alumni representative on the Intercollegiate Athletics Corp. board.
He also is a trustee and member of the Executive Committee for the KU Endowment Association.
Meeks, Kansas City, Kan., is a district court judge who earned a law degree from KU in 1967. He has served on the advisory board for minority development at the Graduate School, and on the advisory board for the Edwards Campus. He is a member and past president of the Law Society Board of Governors at the School of Law.
Meeks served as the Alumni Association's national chairman from 1997 to 1998 and has been a member of Jayhawks for Higher Education.
For the Endowment Association, he is a member of the Chancellor's Club. He was a member of the Campaign Kansas fund-raising advisory board.
Meeks received KU's Distinguished Service Citation in 1995 and the School of Law's Distinguished Alumnus Citation in 2001.
Seaver, Lawrence, served as director of the Western civilization program at KU for 25 years. He also has been host of "Opera is my Hobby" on Kansas Public Radio for 50 years.
"I had no idea I was even being considered for something like this," Seaver said. "This is one of the nicest things that's ever happened to me."
Seaver also worked for KU's Study Abroad program and received two Fulbright grants and a Carnegie Foundation grant for his studies.
Seaver is a former member of Jayhawks for Higher Education.
Copyright 2017 The Lawrence Journal-World. All rights reserved. This material may not be published, broadcast, rewritten or redistributed. We strive to uphold our values for every story published.