Bartlett pears in a port-reduction sauce are served with herbed pork tenderloin in this stylish but simple, low-fat entree.
The blend of flavors has a taste of fall in its origins a sweet touch of the fruit harvest season. The thyme-coated pork is visually well dressed, too, with the rich sauce of pears, ruby port, orange juice and Dijon mustard.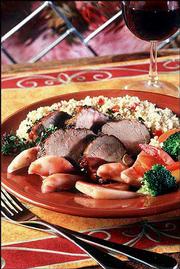 For a nice balance, serve the dish with quick-to-fix couscous to soak up the pear and port sauce. Use a colorful platter and garnish with slices of fresh pear and thyme sprigs for a special presentation if you're entertaining.
Herbed Pork Tenderloin With Bartlett Pear Port Sauce


2 pounds pork tenderloin
1/4 cup chopped fresh thyme
1/2 teaspoon salt
Freshly ground pepper
2 tablespoons butter
1 1/4 cups ruby port
1/2 cup orange juice
2 teaspoons Dijon mustard
2 to 3 very ripe Bartlett Pears, peeled, cored and sliced
Preheat oven to 350 degrees.
Rinse pork and pat dry; sprinkle with thyme, salt and pepper. Melt butter in a large skillet. Add pork to skillet and cook over medium heat until browned on all sides. Remove pork from skillet and place in a large shallow baking pan. Place in oven and bake until pork reaches 170 F on a meat thermometer, about 20 to 30 minutes.
Meanwhile, add port, orange juice and mustard to skillet, whisking until smooth. Add pears and cook over medium heat until pears are soft and liquid has reduced by about half. Add cooked pork to skillet along with any juices and cook for several minutes more. Slice pork and place on a serving platter; pour sauce over top. Garnish with fresh pear slices and thyme sprigs.
Makes 6 to 8 servings.
Copyright 2018 The Associated Press. All rights reserved. This material may not be published, broadcast, rewritten or redistributed. We strive to uphold our values for every story published.