Free State High's volleyball team made sure this year's batch of seniors had a memorable Senior Night.
It just wasn't necessarily in a good way.
The Firebirds did manage to slip by Topeka and Tonganoxie in dramatic fashion, going 2-0 in the triangular and improving to 13-19.
But Free State had to complete nail-biting comebacks in both matches. It swept Topeka, 15-9, 15-13, before escaping the Chieftains, 15-8, 17-15.
"Tonight was not very indicative of what we are capable of doing," FSHS coach Nancy Hopkins said. "All year, we've been digging ourselves a hole and trying to come back from it."
The sweep gives the Firebirds a three-match winning streak heading into Saturday's sub-state tournament in Leavenworth.
"With the kinds of teams we're going to have at sub-state," Hopkins said, "we can't dig holes like that."
After five seniors and Jenny Gwaltney cruised through the first game against Topeka, Hopkins returned to her normal lineup, and FSHS immediately struggled. The Trojans took a 10-1 lead before Free State came storming back, led by the work up front of Jayme Lisher.
The senior contributed four of her eight kills and several more blocks during Free State's 14-3 run. Three of the Firebirds' final four points came off of service aces by Lisher.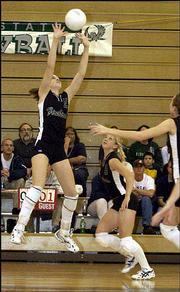 "Sometimes it just takes one (kill) to get everyone fired up," Lisher said. "We were kind of down and making a lot of mistakes at the time."
The momentum fueled by Lisher carried Free State into its late match with Tonganoxie. The Firebirds took an 8-1 lead in the first game, before sputtering to a 15-8 win.
"Jamie Lisher is one of those kids that it doesn't matter what the level of competition is, she's going to be swinging hard all the time," Hopkins said. "She's probably the most consistent hitter I've seen across the league."
Game Two against the Chieftains provided even more drama. Up 13-9, the Firebirds yielded five straight points to Tongie, came back to tie it at 14-14 and eventually pulled away with the 17-15 victory.
For the seniors Lisher, Brianna Green, Linsey Morningstar, Nicole Berry and Meika Potter it was an exciting ending to their home volleyball careers. For Hopkins, it was enough to make her pull her hair out.
"We've got to play a lot more consistently," Hopkins said. "There are times that we do. It's just not all the time."
Copyright 2018 The Lawrence Journal-World. All rights reserved. This material may not be published, broadcast, rewritten or redistributed. We strive to uphold our values for every story published.