Three Free State High School students representing Aquila withstood the sting of this year's Journal-World Corporate Spelling Bee to win by default.
In an unusual twist, the winning team was decided by what it couldn't spell rather than what it did spell.
Aquila representatives misspelled "inculcate," but under the rules of the spelling bee they were allowed to use their one free misspelled word to make up for it.
Aquila's remaining challengers, Golf Course Superintendents Association of America and Wal-Mart, were then eliminated because their teams misspelled "ebullient" and "propitious," respectively.
Representing Aquila were Annie McEnroe, Niki Hossack and John Benjamin, from Free State's advanced placement science class.
Eight teams participated in this year's spelling bee to help raise money for Newspapers in Education. The participating corporations paid $350 for the right to try to spell words such as ecocatastrophe (a major destructive upset in the balance of nature, especially when caused by the intervention of humans) and couchant (lying down with the head up.)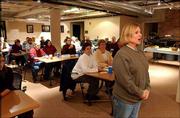 The event raised $3,500, said Matt Cox, Journal-World Newspapers in Education coordinator.
This year's event featured a mother and daughter competing against each other on different teams. Aquila's Niki Hossack, a Free State junior, competed against her mother, Joanne Hossack, 44, who was a member of this year's Allen Press team.
"It was a big surprise to both of us when we realized we were going to be competing," Joanne Hossack said.
Some of the teams, including Allen Press, had practices to go over the list of 500 words that were available for use in the spelling bee.
"We went over the words a couple of times," said Steve Holliday, who said he was captain of the Allen Press team because "no one else wanted to do it."
GCSAA team members spent about four or five lunch breaks going over the words, Lyne Tumlinson said.
"We have several words we hope they ask," Tumlinson said before the spelling bee began. "It's the words we haven't thought about that we're worried about."
Here is a list of some of the words on this year's Journal-World Corporate Spelling Bee contest.Selenologist - an astronomer who specializes in the study of the moon.Zucchetto - a small round skullcap worn by Roman Catholic ecclesiastics in colors that vary according to the rank of the wearer.Batterie - a ballet movement consisting of beating together the feet or calves of the legs during a leap.Paradisiacal - of, relating to, or resembling paradis.Portentous - of, relating to, or constituting something that foreshadows a coming event; ominous.Palliate - moderate the intensity of; lessen.Cryology - the study of snow and ice.Haiku - an unrhymed verse form of Japanese origin having three lines containing usually, five, seven and five syllables, respectively.Entomogenous - growing on or in the bodies of insects.Celeritous - swift-moving.
Copyright 2018 The Lawrence Journal-World. All rights reserved. This material may not be published, broadcast, rewritten or redistributed. We strive to uphold our values for every story published.