On days when workouts drag on, some Lawrence High swimmers look over at the Lions' two divers with envy.
It's easy too. Watching John Gatti and Nick Leet bounce on the board a few times, slip into the water, then get out and do it all over again looks like a pretty good gig.
Until a swimmer tries it.
"The swimmers will give us a little bit of grief," Gatti said. "But when they come over and try a dive, they don't snicker quite as much."
Maybe that's because the Lions have two of the better divers in the state. Gatti, a junior, was the Sunflower League champ and took third at the state meet last year.
When the boys' swimming season begins next Thursday " LHS plays host to Free State and Shawnee Mission South at 3:30 p.m. at the Karl Knox Natorium " plenty will be expected of Gatti and the rest of the LHS squad. That is, if the Lions can reload.
They were third at league and sixth at the state meet, behind Gatti and 2002 graduate John Armstrong, who was the league champ in the 100 butterfly and 100 freestyle, and placed among the top six in both events at state. He was one of five seniors that paced coach Alicia Jackson's team, who hopes this year can as pleasant as the last.
"I thought at least top five for league, and then at state I thought top 10," Jackson said. "So it was a nice surprise."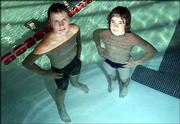 Among the Lions Jackson said should shine are junior David Abreau, a transfer student from Brazil. He's strong in the backstroke, though he'll be used in just about every event.
"I think he's going to be one of my clutch performers," Jackson said.
Junior Ian Legler is the team's best in the breaststroke, while Karl Havener should come on strong in freestyle. Junior Harry Swartz, one of the Lions' top cross country runners, developed into a reliable distance swimmer at the end of last season, and could do so again.
While the Lions are looking to reload, FSHS coach Annette McDonald has the weapons on her squad. She just doesn't get to use them until January.
The Firebirds were 22nd at state last year, but with Lawrence Aquahawks swimmers Adam Brunfeldt, Anthony Portella, Chris Sellon and Chris Wolff joining the team after the club season, FSHS will be tough.
And the rest of the team knows it.
"We've got four guys coming up in January that should give us a good chance to win league," senior Justin Stein said.
All four were state qualifiers last year, and once they arrive, McDonald expects them to push the rest of the team in practice and when it comes to winning meets.
"They'll be placed strategically to help the team," McDonald said.
So is there a downside to adding four more swimmers to a roster of 24, the most McDonald's had in two years as coach?
"In one respect that's really good because I'll have every event filled," she said. "But not every kid gets to swim at every meet."
Still, it's trade off she's willing to make.
Besides, she said the relays would be stronger because of it, and if Stein, freshman Spencer Flannigan and senior Seth Alford keep progressing, the Firebirds can develop into a deep, dominant team.
"They'll always be challenges," McDonald said. "We don't have the depth right now, but I think I'm looking at a team with a lot of potential."
Copyright 2017 The Lawrence Journal-World. All rights reserved. This material may not be published, broadcast, rewritten or redistributed. We strive to uphold our values for every story published.