With little income and no dental insurance, Chris Moore was often out of luck when he got a toothache.
That's changed thanks to the Douglas County Dental Clinic, a nonprofit agency created to help the poor, homeless and uninsured.
"Instead of having to live with a toothache or find a dentist who might take payments, I can go there and get it fixed instead of trying to borrow money or save money," Moore said Thursday. "It's been a huge help."
The clinic is helping more people than ever since it hired its own dentist and became a full-time operation in July. Before that, it had been open only a few days a month since its December 2000 opening.
"In October of last year, we had eight patients," said Dan Gardner, the clinic's director. "In October of this year, we had 210 patients. We've kind of grown a little bit."
It's a welcome development among medical officials who serve the poor in Douglas County.
"Prior to the clinic, our program was sending out to volunteer dentists about 250 referrals a year," said Nikki Rhea, director of Health Care Access. "Because they were so limited, they could only take emergency cases " people who were in pain " and couldn't really take care of any preventive issues."
Chris Budig graduated from the University of Missouri-Kansas City dental school in May, then signed on as the clinic's full-time dentist.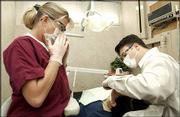 "A lot of people who come to us for help really don't have anywhere else to go," Budig said.
Indeed, the clinic has a monthlong waiting list. And the numbers suggest many people are still using the Lawrence Memorial Hospital emergency room for dental problems; 224 did so in 2001, while 204 have made similar visits already this year.
"These numbers show there's obviously potential for the dental clinic to serve people who are obviously using the emergency department," said Janice Early-Weas, the hospital's director of community relations.
Gardner said the clinic could use dental volunteers and donations to help meet the need.
The clinic emerged out of a process that began in 1998 with the formation of the Douglas County Dental Coalition, composed of dentists, hygienists and other health-care professionals. Douglas County has been identified by the National Health Service Corps as a high-need area for low-cost dental care.
The clinic is largely funded by the United Methodist Health Ministry Fund, in combination with donations from smaller organizations and individuals. It also charges patients on a sliding-fee scale, according to their ability to pay.
About the clinicWhere it is: 214 W. 10th St.When it's open: 8 a.m. to 5 p.m. Monday through Friday.How much it costs: Fees are on a sliding scale based on patient's income.Where to phone: 312-7770
The clinic serves people whose income is up to twice the poverty line " or up to $36,200 for a family of four.
"There's an estimated 25,000 people in Douglas County who could benefit from this," Gardner said.
The clinic performs all types of dental work, including routine cleaning, root canals, crowns and bridges, but not dentures, Gardner said.
Moore, who receives a $500-a-month disability check for a back injury, is grateful for the service.
"Disability doesn't give you dental insurance, so it's the only place I get to go," he said. "It's got good service and good dentists."
Rhea said proper dental care made good health sense.
"Dental care is really more than an aesthetic necessity," Rhea said. "It really is just as medical as anything else " there are studies that connect dental health to heart disease. Your mouth is still part of your body, one more thing that needs special attention."
Copyright 2017 The Lawrence Journal-World. All rights reserved. This material may not be published, broadcast, rewritten or redistributed. We strive to uphold our values for every story published.