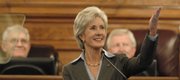 Kathleen Sebelius is the nominee for Secretary of Health and Human Services in Obama's Cabinet. She has served as Kansas' governor since 2002 and before that was insurance commissioner and a state representative.
Topeka — Two days after Kathleen Sebelius won election as Kansas governor, she and a Lawrence attorney quietly settled a seven-year legal battle that cost the state $200,000.
The attorney, Chris Miller, said Sebelius' decision to abandon the fight showed she had no legitimate case against him.
"The very fact that they dismissed their counterclaim says to me it had no merit. They knew it wasn't worth anything," Miller said.
Sebelius' spokeswoman, Nicole Corcoran-Basso, disagreed with that assessment.
"The fact that he decided to dismiss all his claims, we decided this would be best for everybody," she said.
The dispute between Sebelius and Miller started in 1995, shortly after Sebelius, a Democrat, was elected state insurance commissioner. She defeated incumbent Republican Ron Todd, whom Miller had worked to get elected.
During Todd's administration, Miller also was contracted to handle cases under the Kansas Workers Compensation Fund, for which the insurance commissioner was responsible.
After taking office, Sebelius accused Miller of overbilling the fund and essentially banned him from handling cases under the fund. She conducted a news conference criticizing him.
Miller struck back, filing a lawsuit that said his billing was proper and that Sebelius had fired him for political reasons and defamed him. He also sought $234,311 for what he said were unpaid legal services.
Sebelius filed a counterclaim seeking $426,571 she alleged the state overpaid Miller.
The case went on for years in depositions, pre-trial hearings and legal maneuvers.
The cost to litigate the case by the Attorney General's Office was $198,706 up to last fiscal year, according to an August memorandum by the Kansas Legislative Research Department. Another $50,000 was expected to be spent on outside counsel during the current fiscal year, according to another memo.
In July, Miller offered to settle the lawsuit for $1 and an admission from Sebelius that he had been "inappropriately accused of improprieties."
Sebelius refused the offer, and the case was set to go to trial earlier this week.
But on Nov. 4, attorneys for both sides told Shawnee County District Judge Franklin Theis they were willing to dismiss the claims against each other.
On Nov. 7, two days after Sebelius' election victory over Republican Tim Shallenburger, Theis issued the order dismissing the claims.
Miller, who was recently elected chairman of the Republican Party of Douglas County, had been involved in another dispute with Sebelius during the election.
Miller produced two television commercials that were critical of Sebelius. The ads showed briefly on Sunflower Broadband, the Lawrence cable television company, but were pulled down after the Sebelius campaign claimed the ads were false and threatened to take legal action against Sunflower. Miller said the ads were "absolutely true."
Sunflower is owned by The World Company, which also owns the Journal-World.
Copyright 2018 The Lawrence Journal-World. All rights reserved. This material may not be published, broadcast, rewritten or redistributed. We strive to uphold our values for every story published.