Remnants of Dr. John Doy's home have lain neglected, nearly forgotten, in northern Lawrence for nearly a century.
This week a couple traveled from Hull, England - it was their first trip to Lawrence - to tramp through the overgrown site, searching for what ties might bind them and the famed abolitionist who was perhaps an ancestor.
"He went to prison to help slaves escape," Sheila Margaret Coates said of the man who had a powerful role in Lawrence history and may be a significant branch of her family tree.
"And (the site) is not sacred to anyone," said Peter Coates, Sheila's husband.
The Coates said they were shocked to find the Doy home, now nothing but stone rubble and a foundation pit, only yards from modern development and with no effort being made to preserve the site for posterity.
The couple said they would like to see the site saved, perhaps as a public park with a marker or monument erected to commemorate Doy's role in the fight against slavery.
Doy's story
"We know much more about him than we do most other abolitionists," said Judy Sweets, collection manager at Watkins Community Museum.
In northeast Kansas, Doy was known in the pre-Civil War era for his abolitionist efforts and work with the Underground Railroad.
He arrived in the area in 1854 with the New England Emigrant Aid Co., which brought the first settlers to Lawrence. On Jan. 20, 1859, Doy was escorting 12 escaped slaves to Oskaloosa - and freedom - when the group was captured by 20 Missouri border ruffians.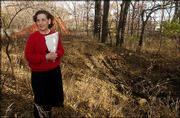 Doy was taken to Weston, Mo., and accused of the federal offense of helping slaves escape. He was held in a St. Joseph, Mo., jail, for five months until 10 Lawrence men lied their way into the jail and rescued Doy and his son, Charles.
These days, the elder Doy is known mainly because of the image showing him seated in front of his 10 grim-faced rescuers. The photo has been used in various pieces of city promotional literature as depicting "the original Jayhawks."
Information found at Watkins Community Museum was overwhelming to the Coateses, who have been in contact with Sweets for the past two years as they've researched their family history.
Sheila's mother's maiden name was Doy, and the Coateses have been researching the Doy family tree for nearly 30 years.
"It's a pretty unusual name," Sheila said.
The couple came across Dr. John Doy by accident when a family member brought home a book on the American Wild West.
Through communication with Sweets, the genealogy enthusiasts discovered the Kansas abolitionist had ties to their hometown of Hull, England, and perhaps their own family.
Roots of abolitionism
A marriage license for Doy and his wife, Jane Dunn, in Yorkshire County, England, further helped corroborate the possible connection.
"John Doy wasn't a doctor when he left England but he was when he arrived in America, or shortly after his arrival," Peter Coates explained, looking through his notes.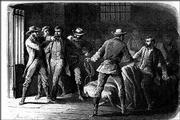 The couple also found Dunn's birth certificate, as well as those for three of the Doys' nine children, on record in Lawrence.
One of John Doy's children was named after William Wilberforce, an abolitionist in England who rallied support to halt the shipping of slaves from Africa to America in the early 1800s. The Coateses discovered Doy lived near the Wilberforce mansion in Hull before coming to America.
"We think this is where Doy got the idea of the evils of slavery," Sheila said.
They were able to trace Doy's tracks when Sweets sent them a copy of the 1850 New York Census, which also helped confirm that Dr. John Doy was the same John Doy from Hull, though they remain unsure about when the Doys made the trans-Atlantic move.
The couple's research also indicated Doy had been employed by the railway in England when he arrived in Hull, and was paid 28 shillings a week. The Coateses said his position as a warehouse man in the railroad industry also suggested that the Free State proponent came from money, because part of the job included paying 50 pounds security, which was a year's worth of wages.
The Coateses believe his working for the railroad may be why he left England for America.
Growing connection
Despite information available in Lawrence and other tidbits gleaned from the Coates' 30 years of research, the couple's claim to a Doy connection isn't certain.
"We still don't know where he came from," Peter Coates said.
And the couple still haven't deciphered whether Doy was more sinner or saint. Court records show he was once arrested for theft in Hull, "but found not guilty, of course," and that he was imprisoned in Canada, Peter Coates said.
The Doy story will be featured on Douglas County Cornerstones, a segment of tonight's 6News at 6 and 10 p.m.
Touring the area just north of John Doy Court, next to the Doy home site, the Coateses saw the evidence - including a hand-dug well - of what local historians claim to be remnants of Doy's home on what was once his 160-acre farm.
Sweets said the site was discovered by a neighborhood boy nearly two years ago, before the city approved plans for a new duplex development nearby.
"It's amazing that something like this still exists within city limits," Sweets said.
Sweets said the land, which is owned by Cheer Pole Ltd., was platted for new homes, but she hopes the city will help with the cost of conducting an archaeological dig, and eventually with preserving the site in some manner.
Don Funk, a partner in Cheer Pole, said it would be a while before any building occurred there. He said he had spoken with Lawrence-area history buff Tolly Wildcat about preserving the area. He said he would be willing to build a museum, if someone else came up with the money.
The Coateses said their research had left them feeling connected to Doy, even if records eventually proved there was no family tie.
Copyright 2017 The Lawrence Journal-World. All rights reserved. This material may not be published, broadcast, rewritten or redistributed. We strive to uphold our values for every story published.