The state's adjutant general challenged Kansans on Veterans Day to live lives worthy of the sacrifices made by those who died protecting American freedoms.
Those heroes and other military veterans were honored Monday in ceremonies conducted in the shadow of terrorism and a pending war with Iraq.
Vernon Russell, commander of the Veterans of Foreign Wars Post 582 in Lawrence, said the year of worldwide tensions had sparked renewed interest in Veterans Day.
"We weren't getting as many phone calls before, but now we're getting lots of people inquiring about participating," he said. "The interest is there now. People are aware that veterans exist."
But, he told the crowd of nearly 200 veterans and their supporters Monday, Veterans Day shouldn't be entirely somber.
"This day should be filled with gratitude for all the good things we enjoy as citizens of the greatest nation on earth," he said.
More than 60 fifth-graders from Hillcrest School joined the community observance at the VFW, 138 Ala.
"Children need to be exposed to this," said Helen Tuley, a Hillcrest teacher. "Many have not had a family member involved in a conflict, and they should know about the sacrifices that were made."
'Earn it'
Speakers Monday at the VFW included City Commissioner Jim Henry, a retired Navy pilot; and Kansas Adjutant Gen. Greg Gardner. The ceremony ended with the playing of "Taps" and a 21-gun salute.
Gardner, delivering the same speech he gave earlier in the day at a statewide ceremony in Topeka, quoted dialogue from "Saving Private Ryan," Steven Spielberg's 1998 movie about World War II and the Normandy invasion.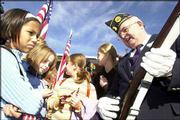 Gardner quoted its central character, a captain whose squad was sent to find Pvt. Ryan, the only one of a family's four sons still living. The captain tells Ryan, "Earn it," meaning he needs to live a life worthy of the sacrifices his fellow soldiers made to save him.
"That's a powerful challenge," Gardner said. "How do each of us earn the blessings of freedom that others bought for us with their lives? Do we take the time to stay informed? Do we know our Constitution? Do we study our history so we won't repeat it? Do we give back to our communities? Do we contribute to things greater than ourselves?"
Other area ceremonies included:
A 24-hour vigil at Kansas University's Vietnam Memorial, with a speech by retired Marine Corps Maj. Gen. Clayton Comfort, a 1953 KU graduate.

A speech by Col. Royal Brown, a Leavenworth resident and veteran of three wars, at McLouth High School's Veterans Day assembly.
The first Veterans Day ceremony since the reopening of the Liberty Memorial in Kansas City, Mo., on the memorial's south lawn.
The statewide ceremony in Topeka, featuring a flyover by a KC-135 tanker. Gov.-elect Kathleen Sebelius also spoke, quoting Abraham Lincoln's Gettysburg Address.
Korean War veterans
Paul Idol, a Korean War veteran and retired Army colonel, joined Sebelius in laying flowers at the foot of the state's Veterans Memorial. The memorial is an 8-foot-tall granite obelisk on the south side of the Statehouse grounds.
Gardner noted that this year's ceremony was designed to honor all veterans, but soldiers in the 1950-53 Asian conflict especially.
"The Korean veterans haven't had too many things to honor them, really," said Idol, a retired teacher and principal from Topeka.
Fifty years ago, Idol was a 20-year-old in an infantry unit who'd started his service in Korea. He soon became a combat medic.
Monday's ceremony brought back some memories. For one thing, he said, the chill in the air reminded him of Korean weather.
"This is a fairly good example of Korea," he said. "There, we had the north winds out of Manchuria."
Back in Lawrence, one Hillcrest fifth-grader said she learned an important lesson.
"I think I learned how important Veterans Day is," Mica Mendez said. "It's important so we can remember the people that helped this country be free."
Copyright 2018 The Lawrence Journal-World. All rights reserved. This material may not be published, broadcast, rewritten or redistributed. We strive to uphold our values for every story published.