Kansas University will get $3.5 million from the U.S. Defense Department for two research projects tied to bioterrorism threats.
And even more money is on the way, U.S. Sen. Pat Roberts, R-Kan., promised Friday during a luncheon speech to the Lawrence Chamber of Commerce.
"You really haven't seen nothing yet," he told the crowd.
Both projects are part of the Defense Department's effort to combat bioterrorism.
KU's department of pharmaceutical chemistry will get $1.5 million to establish the Center for the Stabilization of Vaccines, where research will focus on developing vaccines less susceptible to temperature changes.
The university's Natural History Museum and Biodiversity Research Center will get $2 million to enhance Web software used to predict the geographic spread of biological agents and their risk to human populations.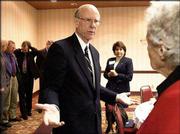 Roberts, a member of the Senate Intelligence Committee and the Committee on Armed Services' Subcommittee on Emerging Threats and Capabilities, promised to steer more bioterrorism dollars toward KU.
Roberts predicted Iraqi strongman Saddam Hussein would have "nuclear weapons capability a year from now," adding that proposed weapons inspectors "mean nothing, dismantling is the key."
The luncheon drew about 70 people, a mix of chamber members and university officials.
Asked what he thought of the state's gubernatorial race, Roberts said he'd endorsed the Republican ticket but quickly noted that he was "close personal friends" with Democratic nominee Kathleen Sebelius and her husband, Gary.
Roberts said he once worked for Gary Sebelius' father, former U.S. Rep. Keith Sebelius, R-Kan.
Roberts said he hadn't noticed "too much difference in terms of priorities" between Kathleen Sebelius and her Republican opponent, State Treasurer Tim Shallenburger.
Copyright 2018 The Lawrence Journal-World. All rights reserved. This material may not be published, broadcast, rewritten or redistributed. We strive to uphold our values for every story published.