Ruts worn into the pavement of two Douglas County roads will get filled this summer, topping a list of rural repaving projects intended to improve driver safety and boost road durability.
A five-mile stretch of County Road 1061, north of U.S. Highway 56 in southeast Douglas County, will get an estimated $114,000 makeover. County officials are seeking bids for the microsurfacing project, which will cover the road with pavement thick enough to fill ruts but thin enough to save money.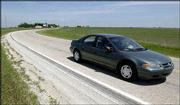 Covering the road with a traditional, thicker overlay of pavement would cost about three times as much.
"We've only got a certain amount of money to work with, so we have to fit everything in," said Keith Browning, the county's director of Public Works. "It's a big savings, and we'll get much better drainage. It reduces the possibility of hydroplaning."
The road, which carries about 1,500 vehicles per day, is a popular connection between U.S. 56 and Kansas Highway 10 to the north. Work is scheduled for July.
Also on the county's repaving list is a 2-mile stretch of County Road 460, west of U.S. Highway 59. The road needs a full, 2-inch-thick coat of pavement because the road has more structural damage than 1061, Browning said.
The project, scheduled for early September, is expected to cost $128,300. The road carries about 900 vehicles per day.
The county also intends to experiment with a "scrub seal" process on a mile of County Road 5, south of U.S. 56. County crews will sweep a special blend of asphalt into cracks, then top it with sand to seal the surface.
Browning said the process had worked in a handful of other areas in Kansas, and could provide a relatively low-cost alternative to other road-maintenance projects.
Copyright 2018 The Lawrence Journal-World. All rights reserved. This material may not be published, broadcast, rewritten or redistributed. We strive to uphold our values for every story published.