To an incoming student at Kansas University, all the different dining options that are available can be a bit bewildering.
There are a number of places where students can enjoy a full-fledged meal, or just grab a snack to go. And there's a variety of meal plans.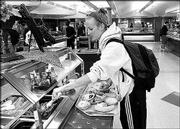 Here are some of the basics to understanding how to locate a good meal on campus.
There are three dining centers in the system, serving a total of about 5,200 meals per day: the GSP/Corbin and Oliver Hall facilities; and Ekdahl Dining Commons, known informally as "Mrs. E's."
There's also a facility called E's Express, which is a food-to-go option in Hashinger Hall.
All the students living in the university's residence halls must choose a meal plan.
Meal plans are an option, though, for residents of Jayhawker Towers, Stouffer Place and Sunflower Apartments, which offer kitchenettes or full kitchens.
Students in McCollum, Ellsworth, Hashinger, Oliver or GSP/Corbin halls may choose from three meal packages: any 19, 15 or 10 meals per week.
Residents of Templin and Lewis halls, Jayhawker Towers, Stouffer Place or Sunflower Apartments may select a fourth option, a five-meal package.
The costs of the different meal plans for the 2002-2003 school year are: $2,236 for the 19-meal-per-week plan; $2,076 for 15 meals per week; $1,916 for 10 meals per week; and $1,116 for five meals per week.
The best value for students is the 19-meal plan, and those who eat almost all of the meals in their plan are getting a very good deal, according to Nona Golledge, assistant director of KU's Dining Services.
Those students are getting three all-you-can-eat meals with plenty of food choices for about $8.50 per day.
The meal plans that students choose are encoded on their KU I.D.s, which are called KU Cards.
Catering to many tastes
The dining facilities at KU are alike in some ways, different in others.
They're all laid out as food courts, with the largest one Mrs. E's featuring both self-serve and "served" areas where they're helped by food service employees.
GSP/Corbin and Oliver are entirely self-serve food courts.
All of the cafeterias offer a large variety of entrees served per meal, with Mrs. E's often having a few more choices.
Two to three vegetarian entrees are served as options at every meal at each cafeteria, and at least one of those entrees will be vegan meaning it contains no animals products at all.
Students dining at any of the cafeterias also will find large salad bars and dessert bars.
At E's Express in Hashinger Hall, meanwhile, the focus is on convenient foods to go. Students can find a variety of meal choices for breakfast, lunch and dinner.
Mrs. E's features different levels of seating for everyone from twosomes to big groups, a great view looking out across KU and private banquet rooms for meetings and special events.
Mrs. E's seats about 700 people, while GSP/Corbin and Oliver each seat about 200.
The GSP/Corbin and Oliver cafeterias feature induction technology, in which meals are cooked using magnetic energy and Teflon skillets.
Students dining there can select fresh ingredients and have meals such as stir fries or pastas prepared right in front of them.
New in the upcoming year
One of the changes that's underway for 2002-2003 is a student store near E's Express. It will be like a convenience store, offering snacks, school supplies, laundry detergent and health and beauty products.
Other goals for the upcoming year are an increase in the selection of vegetarian meals and the easy identification, on the menu, of healthful entrees that have 600 or fewer calories.
The GSP/Corbin cafeteria stands out from the other dining facilities in one way that's striking about 98 percent of the students who eat there are women. (GSP/Corbin is an all-female residence.)
That fact helps shape the menu at GSP/Corbin, according to Golledge.
"We have to put out a lot more chicken and fish, and the salad bar has to be fresh and great all the time. We try to serve more items that are light," she says.
"But students there still enjoy hamburgers, french fries, pizza and chicken nuggets."
Copyright 2018 The Lawrence Journal-World. All rights reserved. This material may not be published, broadcast, rewritten or redistributed. We strive to uphold our values for every story published.