In the basement of Strong Hall that regal building on Jayhawk Boulevard with the big bronze Jayhawk out front is an off-the-beaten-path office you might want to know about.
It's called the Student Development Center, and for many Kansas University students, it's a one-stop answer shop for anything from navigating the university system to hooking up with a tutor or seeking guidance on gender and sexuality issues.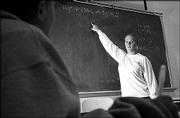 "We're here for students who just want a place where they can feel connected, where there's someone they can trust to give them reliable information," center director Mary Ann Rasnak said.
Tutoring, workshops
The center probably sees the most traffic for its tutoring services, Rasnak said. For less than $100 a semester, the office connects students who need help in a variety of entry-level courses with peer tutors who meet with groups of no more than four students to answer their questions, clarify course content, help them understand key concepts and prepare them for exams.
Financial assistance is available for students who qualify.
The center also offers regularly scheduled workshops on subjects such as time management, how to study, notetaking, studying for and taking exams, preparing for finals and managing academic anxiety. Schedules can be found posted across campus or on the center's Web site.
Nontraditional students
A recent study by a higher education think tank estimated that fewer than 50 percent of today's college students fit most people's image of a traditional "college kid": 18-22 years old, unmarried, not working a full-time job.
| | | |
| --- | --- | --- |
| | | |
| | Where to get helpKU's Student Development Center can help with tutoring; academic success workshops; one-on-one personal consultations; problem-solving; nontraditional and commuter student issues; lesbian, gay, bisexual and transgendered student issues; notices to faculty for extended absences; assistance in emergency situations; typewriters for students; and informational handouts.Contact the center at 864-4064 or sdc@ku.edu.Also, visit the center online at www.ku.edu/~develop.With questions about women's or gender-related issues, contact the Emily Taylor Women's Resource Center, a service of the Student Development Center, at 864-3552, or visit it online at www.ku.edu/~etwrc. | |
| | | |
Although the percentage of nontraditional students at KU is smaller than the national average, Rasnak said, "It's a growing number, and it's a group that we do serve here."
Nontraditional at KU includes any undergraduate who commutes 10 or more miles to campus from home or work, is a parent of dependent children, is married, is a veteran or is at least three years older than classmates.
"They have other needs, different needs," Rasnak said. "They may not be into an alcohol prevention scene but might have questions about child care."
Students who commute from long distances and might have trouble making connections on campus often visit the center for guidance and answers, Rasnak said.
The center holds a welcome and orientation for nontraditional students in the fall, and a center staff member focuses specifically on nontraditional student issues and concerns and serves as an adviser to the nontraditional student organization.
Gender and sexuality
Another group of students who may feel alienated or confused about their place on KU's campus are those with questions about their sexual identity or issues pertaining to their gender.
Center staff will meet with individuals or groups to discuss issues like coming out, being out or dealing with discrimination. The center also works a lot with allies: people who are straight and want to be supporters or advocates of people who are gay, lesbian, bisexual or transgendered. A collection of books and videos on related issues also is available at the center, Rasnak said.
The center and its sexuality resource coordinator conduct activities in conjunction with National Coming Out Day and help organize events and speakers for Pride Week. In April, the center played host to the first-ever Big 12 Gay Conference. About 40 people attended, Rasnak said.
"It was small, but it was our first year," she said. "We're glad that it happened in conjunction with Pride Week and are looking forward to having it again next year."
The Emily Taylor Women's Resource Center is also a service of the Student Development Center. It provides information, resources and assistance on women's and gender-related issues.
If you have a friend with an eating disorder, are yourself a woman looking for financial aid or need help with child care, career, health, relationship or sexual violence-related issues, a resource center staff member can probably help you, or at least direct you to someone who can, director Kathy Rose-Mockry said.
"We can address a wide range of issues on anything that might impact a student based on their gender," she said.
Copyright 2018 The Lawrence Journal-World. All rights reserved. This material may not be published, broadcast, rewritten or redistributed. We strive to uphold our values for every story published.