An English degree isn't the only thing Heather Krasovec earned during her four years on campus.
The Kansas University student from Garden City also picked up a crash course in financial reality, after running up balances on three credit cards and store cards from Victoria's Secret and Target.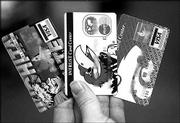 Her debt may be gone now, but the lessons learned through buying jeans, covering dinner tabs and buying Cokes and Cocoa Puffs on plastic will endure well after she leaves Mount Oread.
"I would recommend to new students that they pay with cash every time, because it's better than being in debt," said Krasovec, who stopped using her cards 1 1/2 years ago. "It's easy to listen to the experts and say, 'Whatever,' but they're right. You need to be responsible.
"I figured it out the hard way."
Such stories are becoming increasingly common on college campuses, where students' consumer debts continue to pile up.
Nellie Mae, the student loan agency, reported that its undergraduate student customers carried an average credit-card debt of $2,748 in 2000, up 46 percent from $1,879 in 1998. The average card-carrying student had three cards, and one in three undergraduates had at least four.
For graduate students, the numbers revealed an ever deeper hole: 95 percent had credit cards, with an average student debt of $4,776. One in five card-carrying students had credit balances of $6,000 to $15,000, while 6 percent had balances of more than $15,000.
For Krasovec, who is taking a year off before entering graduate school, the numbers are worrisome but not much of a surprise.
"I don't know anybody my age that's not in debt," she said. "It surprises me if people aren't in debt. They are few and far between."
She doesn't know Paul Kramer. The junior from Overland Park carries only a debit card from his bank, and isn't about to apply for credit.
One of his friends is $1,200 in the hole, and Kramer doesn't want to go there.
"I look at them and shake my head," he said. "They just get deeper and deeper in debt, and they can't get out. If I don't have the money, I don't buy it. That's it."
Climbing out of debt
Nellie Mae offers four suggestions for students seeking to climb out of credit debt:
Cut recreational expenses.
Call the credit card company. Some are willing to work out favorable repayment schedules.
Develop a budget and stick with it. "Everyone makes mistakes, but don't prolong yours," the agency says. "Bad credit will follow you and hurt your chances for mortgages or loans down the road."
Look into credit counseling services, which offer educational programs or individual counseling sessions to help get students back on track.
KU students have plenty of opportunities to use, and secure, credit cards early in their experiences on campus. The university accepts tuition payments from students opting to pay online by using either a MasterCard or Discover card.
During Hawk Week and early in the fall semester, credit companies and banks line up in the Kansas Union and along Wescoe Beach to sign up new customers.
The proliferation of solicitors has drawn fire from student leaders, who have lobbied Kansas legislators to prohibit credit solicitors from campus.
Danny Kaiser, director of the Organizations and Leadership Center at KU, understands the frustrations. When he was a student at Iowa State in the 1970s, Kaiser managed to secure a MasterCard with a $200 limit, which he used only to buy gasoline.
"I wanted to start building a credit rating," he said. "It's easy to say now, but there was a time it was very hard to get a credit card if you were a student. Now it's like they're trying to sucker you in."
Hooking students
Today, at KU and other campuses across the country, credit companies entice students to sign up for cards that carry credit limits well in excess of $1,000.
The bait?
"T-shirts, candy bars and Slinkys," Kaiser said, referring to items offered to students for filling out application forms. "That's what they do: They entice students with freebies, and that's what I find so troubling."
Responsible use of credit is a good thing, Kaiser said. It's comforting to have a card in case of an emergency, or to buy a plane ticket or to make another major purchase with a clear and realistic plan for paying it off.
But students accepting a free "gift," he said, actually could be signing up for a costly dose of temptation that carries an interest rate of 19.999 percent after six months.
"I fear that the kind of person who would sign up for a credit card just to get a candy bar or a Slinky probably won't use that credit card responsibly," Kaiser said. "That's a fear."
Krasovec remembers getting a T-shirt with her first card, which she signed up for during her freshman year. She had hoped to build a strong credit rating.
The shirt's long since been thrown away, but the financial squeeze the plastic card helped create wasn't so easily discarded.
"It's real easy to look at it as free money," she said, "but it's not."
Copyright 2018 The Lawrence Journal-World. All rights reserved. This material may not be published, broadcast, rewritten or redistributed. We strive to uphold our values for every story published.