Almas Sayeed considers herself an optimist.
She's optimistic about the influence she can have as a Muslim woman studying in Israel.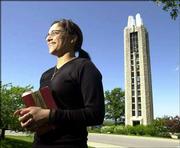 And she's optimistic that peace ultimately will prevail between Israelis and Palestinians.
"If you perpetuate acts of violence, at some point there will be nothing left to fight for," she said. "At best, in the end, you can say, 'I took out your brother.' There's nothing left to pass down through the generations."
Sayeed will graduate today from Kansas University with degrees in philosophy, women's studies and international studies. This fall, she'll study the Mideast conflict as a Fulbright scholar at Hebrew University in Jerusalem.
For Sayeed, 23, the time in Jerusalem will give her a chance to learn about a conflict she's been fascinated with since she was 14, when she saw a report on a TV news magazine. At the time, she said, she couldn't understand why the two sides couldn't make amends.
Sayeed, from Wichita, is the daughter of Indian immigrants. Although her loyalties lean toward the Palestinians she said Israelis often don't get proper blame for their role in the conflict she said she's not going to Israel with a political agenda.
"It's not my interest to convince people I am right, but to integrate into Israeli society," she said. "I want to learn what the people are thinking, the way people are acting."
She had a similar experience two years ago while studying at Birzeit in the West Bank, where she studied the conflict from a Palestinian perspective.
This fall, her studies will focus on six women's organizations that have worked for peace in Israel.
"Women's peace organizations say, 'If nothing else unites us, the horror you feel when you see the violent acts should,'" Sayeed said.
Safety is a concern in the battle zone "it should be for everyone going to the area," she said.
Her parents are concerned, too, but not as much as the first time she traveled in the Middle East.
| | | |
| --- | --- | --- |
| | | |
| | More than 4,000 graduates are expected to participate in this year's Kansas University Commencement procession, which begins at 2:30 p.m. today on Campanile Hill. | |
| | | |
"Maybe if something happens when I'm going out to buy a pack of gum, I'll think it was the dumbest idea of my life," she said, referring to the unpredictability of Palestinian suicide bombings.
Sayeed says she's convinced that bringing an end to the violence begins with reminding both Palestinians and Israelis of the consequences of their actions.
It may sound simple. But Sayeed's an optimist.
"We need to feel this sense of empathy, this sense of sympathy to imagine if we could have been that person," she said. "You could have been born across the line. Not that much separates us."
Copyright 2018 The Lawrence Journal-World. All rights reserved. This material may not be published, broadcast, rewritten or redistributed. We strive to uphold our values for every story published.