Kansas City, Mo. — Kansas City's performing arts center is still in the design stage, but already being likened to Australia's famous Sydney Opera House.
The design by architect Moshe Safdie won praise from 120 civic, business and arts leaders who were invited to the Muriel McBrien Kauffman Foundation on Friday for the unveiling of the plans for the Metropolitan Kansas City Performing Arts Center.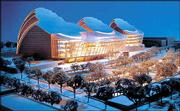 "I think it's a godsend," said Roland Valliere, executive director of the Kansas City Symphony. "This will be absolutely transformational for the arts and the city."
The $304 million center features a 2,200-seat theater and opera house and an 1,800-seat orchestra hall. A 500-seat multipurpose "experimental theater" remains part of a future phase of development and fund raising.
A new school and studios for the Kansas City Ballet will be the first buildings on the site. Neither the third theater nor the ballet building are included in the $304 million total. The ballet is raising separate funds for its building.
Safdie said the structure's north-facing stainless steel roofs would reflect the environment around them.
"At night, all the activities in the building will be totally transparent and visible," he said of the southern view, "so that the sort of ritual of the performing arts becomes a part of people driving up and down Broadway, or the freeway for that matter, and everywhere from the south.
"From the north, the building will glow," he said.
Russell Johnson, whose firm of Artec Consultants will be responsible for the acoustic design of the two large halls, drew the comparison to the Sydney Opera House and said the center would put Kansas City on the cultural map in the same that Frank Gehry's Guggenheim museum building did in Bilbao, Spain.
Ken Dworak, the center's project manager, said groundbreaking was scheduled for April 2004, with a grand opening in 2007. About 600,000 visitors are anticipated in the center's first full year of operation.
Julia Irene Kauffman, the center's board chairwoman, has already pledged $80 million from the Muriel McBrien Kauffman Foundation, which she leads and which was named for her mother.
An additional $25 million from the sale of the Kansas City Royals will be used to seed an endowment for the facility. Ewing Kauffman, Muriel Kauffman's late husband, was the Royals' founding owner.
Julia Irene Kauffman said a multipurpose arts center had been a lifelong dream for her mother, who died in 1995.
Fund raising for the center began officially at a special presentation Thursday.
Copyright 2018 The Associated Press. All rights reserved. This material may not be published, broadcast, rewritten or redistributed. We strive to uphold our values for every story published.