Topeka — The Senate rejected a House-passed congressional redistricting plan Wednesday night, setting off fresh efforts to create a map acceptable to both chambers.
The Senate voted 20-16 against the measure and sent it to a conference committee. Senate President Dave Kerr, R-Hutchinson, promptly replaced the Senate's two Republican negotiators.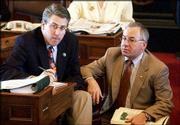 Sens. Barbara Allen of Prairie Village and Lynn Jenkins of Topeka replaced Senate Reapportionment Committee Chairman David Adkins of Leawood and Ed Pugh of Wamego.
Leaders in both chambers had said Wednesday would be the final day of the session.
If legislators cannot find a compromise on how to redraw the districts, the responsibility would fall to a panel of three federal judges. Kansas is required to reapportion its congressional districts to account for population shifts during the 1990s.
The two chambers passed vastly different congressional maps earlier in the session. Legislative negotiators from the two chambers have been unable to reach a compromise on those plans. In addition, Adkins and Pugh refused to disagree with House negotiators, prompting Kerr to change the Senate team.
The resulting stalemate prompted the House to replace a bill related to alcohol with the congressional plan. Representatives passed that proposal Tuesday.
Senators representing Douglas County voted with the majority in turning back a House proposal on congressional redistricting.Both Sens. Sandy Praeger, R-Lawrence, and Anthony Hensley, D-Topeka, voted against the plan.
Senate Majority Leader Lana Oleen, R-Manhattan, opposed the House plan and asked senators to send the bill to a conference committee to be reconsidered.
Under the House proposal, the city of Lawrence would be split down Iowa Street between the 2nd and 3rd districts and Junction City, currently in the 2nd, would land in the 1st, splitting it from Fort Riley.
Oleen, who represents Junction City, was adamantly against splitting the city from the fort.
"Junction City is Fort Riley and Fort Riley is Junction City," she said. "Whatever map we do lasts a long time 10 years of representation in Washington, D.C."
Democrats voted against the map because of the split in Lawrence.
Lawrence and most of Douglas County is currently represented by Rep. Dennis Moore, the only Democrat in Kansas' congressional delegation.
Democrats have pushed throughout the process to keep the entire city in the 3rd. Senate Minority Leader Anthony Hensley, D-Topeka, said a conference committee would be another opportunity to try to keep it in the 3rd.
"I hope that both chambers realize it is unconscionable to split a community of interest," he said.
Both chambers were still in session late into the evening. The committee planned to meet when both chambers recessed.
Copyright 2018 The Associated Press. All rights reserved. This material may not be published, broadcast, rewritten or redistributed. We strive to uphold our values for every story published.