Lawrence High senior Stephen Vinson has completed his ascension.
Sophomore of the year two years ago and an all-league pick as a junior, Vinson has been named Sunflower League boys basketball player of the year by league coaches.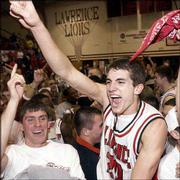 Vinson, a 6-foot-3 point guard and three-year starter for the Lions, averaged 15.9 points a game and had 44 three-point goals to rank second on the squad in both categories. He led Lawrence in assists with eight per game.
Vinson, who's undecided on a college, was a popular figure in the highlight package that LHS coach Chris Davis is producing for the squad's postseason banquet in a couple of weeks.
"I'm in the middle of putting together a highlight video, and as I look at it you realize his leadership was outstanding," Davis said. "He was such a quarterback on the court and I think it brought confidence to everybody."
Vinson received the most votes for the all-league team by the Sunflower coaches, used to determine the player of the year. Olathe South's Ryan Rundberg and Olathe East's Drew Mathews ranked second and third.
Vinson started for LHS since his sophomore year.
"He gets thrown into the Free State game as a sophomore and he played really well," Davis said of Vinson. "All of us looked at each other and saw he was a player and the difference he makes to the team."
Vinson was a key player for Lawrence, which finished 18-5 this season and qualified for the Class 6A state tournament for the first time in seven years. The Lions' season ended with a 55-46 loss to Wichita West in the state quarterfinals on Thursday in Emporia. The 46-point output was a season low for the Lions.
"There was no doubt our team was good enough to win that game," said Davis, who had three starters foul out against West. "I really felt the ball didn't bounce our way much that game and after reviewing the films I still feel that way. I thought we played awfully hard. We didn't get many breaks. They gave a lot of heart and played hard."
West punished LHS inside the paint.
"They made it harder to score in close," Davis said. "We got into early foul trouble and it made it hard for guys to be aggressive under the basket."
Vinson (20 points) and senior guard D.J. Watkins (15) accounted for 35 of Lawrence's 46 points. West's bench outscored the LHS reserves 19-0.
The early exit from state didn't diminish Lawrence's success during the regular season. The Lions went 9-1 in the Sunflower League to share the league title with Olathe South. LHS, one of four league teams to advance to state, hadn't won a league title in boys basketball since 1985-86.
"I'm really happy with the season," said Davis, 33-12 in two years at LHS. "I think we outdid everybody's expectations. To win a share of league championship was great. Obviously it's difficult to do when you consider how long it's been since Lawrence last won it. It's quite a compliment to be one of the top two or three teams in the league. To win it and beat the co-champion (Olathe South 64-44) pretty handily is quite a statement of the effort by the boys."
Watkins, a 6-2 guard, averaged 17.7 points a game to lead LHS. He scored a season-high 37 points, the second-best offensive output in school history, and made seven three-pointers against Kansas City (Mo.) Center in the first round of the Blue Valley Invitational. Watkins finished with a school-record 107 three-pointers 59 as a senior and 48 as a junior for his career.
LHS shattered the school record for threes in a season with 145 treys. The previous mark was 115 by the 1994-95 state championship club.
The Lions will graduate four of their five starters Vinson, Watkins, Jamie Peterson and David Parkinson. Junior Brandon McAnderson, who averaged 7.5 points a game, will be the lone starter back for LHS next season.
"Of all the teams I've been associated with as a coach, this team cared about each other and played together as a team more than any other I've seen," Davis said. "They had each other's back all the time. There wasn't any selfishness. They always were about what we needed to do to get there. I'm sorry to see the season come to an end."
Kansas University freshman Wayne Simien was the league's player of the year last year.
Copyright 2018 The Lawrence Journal-World. All rights reserved. This material may not be published, broadcast, rewritten or redistributed. We strive to uphold our values for every story published.