One truly is the loneliest number.
Free State High's boys basketball team was handed its sixth one-point loss of the season Friday night, falling to Olathe East, 53-52, in their Class 6A sub-state semifinal at the FSHS gym.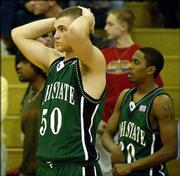 "We've had a lot of close games this season, but we just haven't been able to pull it out," FSHS sophomore swingman Dain Dillingham said. "We played our hardest. We made a few mistakes down the line that cost us, but we definitely played our hardest."
The Firebirds, who finished their season 10-11, overcame a seven-point deficit, 46-39, early in the fourth quarter to set up a frantic finish.
Free State used a 7-0 burst to pull even, then traded buckets with the Hawks (16-5) before O-East drilled a three pointer to take a 51-48 lead with 3:10 remaining. The Hawks pushed their advantage to 53-49 with 51 seconds to play before FSHS junior point guard Neil Dougherty buried three of four free-throw attempts on back-to-back possessions to close within 53-52.
"Disappointment," Dougherty said of the defeat. "I guess it won't really set in until you wake up tomorrow and you have to see other people play for a championship you wanted the whole year."
After the Hawks missed the front end of a one-and-one bonus situation, FSHS junior center Keith Wooden snared the rebound and made an outlet pass to senior guard Andron Cruse. The Firebirds, who were out of timeouts, wanted to get the ball back to Wooden down low, but were denied by Olathe East.
"We were screaming, 'Five-five, five-five,'" FSHS coach Jack Schreiner said of Wooden, who wears No. 55. "He's got to do a better job of getting down the floor and in position and we've got to do a better job of trying to get him the ball. Neil did a good job of penetrating. We want the guards to penetrate and get something.
"But in all six of our (one-point) losses we just didn't get very good shots at the end. They're all off-balance, hope-and-a-prayer-type things. Obviously, I don't go to church enough because none of the prayers fell through," he added.
Instead, Dougherty drove the lane and had his shot over the post players bounce off the front rim. After a mad scramble along the baseline, Dougherty ended up with the ball, but his desperation shot at the buzzer fell short.
"I didn't really see it develop," Dougherty said of the final series. "I went over to the top (of the key) and got the ball with seven seconds. I knew that I had to try and get something going toward the basket and then a couple inches.
"I was hoping I'd get a foul," he added. "Someone was grabbing on to my head. I don't know if it was my teammate or not. That's just one of those desperation type deals."
Wooden scored 12 of his game-high 18 points in the second half. He was 9-of-15 shooting, but struggled at the line, going 0-for-5.
"'We should have won that game.' It just keeps going over and over in my head, 'We should have won that game,'" Wooden said. "It's tough. It's real frustrating. We keep the game close all game and then we can't finish."
Dougherty added nine points six from the charity stripe and Dillingham scored eight in his first career postseason appearance.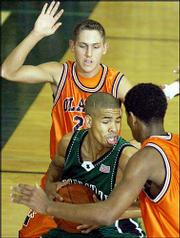 Friday's loss marked the end of the line for four Free State seniors Cruse, Aubrey Gilbert, Damian Harden and Sam Strickler-Hut who accounted for 13 points, including all three of the Firebirds' three-pointers.
"I'll just remember sophomore year playing with my brother (Eugene)," Cruse said, "junior year coming out and starting thinking I was hot stuff, starting as a junior and senior year my shooting and everything.
"My buddy, Jack. I've spent three years with him. It's going to be weird without him next year."
The feeling's mutual.
"You just always hate to lose your seniors because you've known them for a long time," Schreiner said. "You just hate to say goodbye to them. This is tough, guys. It's real tough. We were planning on going a little bit farther than this.
"I don't want talk about next year," he added. "I just want to go home and sulk."
The Firebirds' season might be over, but their gym will be the site of one more game. Olathe East returns to town tonight for a sub-state championship against Lawrence High, a 62-50 winner over Leavenworth.
"Can't hardly wait," O-East coach Jim Super said of tonight's title tilt. "We could play them on a schoolground anywhere in Lawrence or Olathe and it wouldn't be bad. We'd just love to play them one more time."
Tipoff for LHS-Olathe East is 8 p.m. at the FSHS gym.
Copyright 2018 The Lawrence Journal-World. All rights reserved. This material may not be published, broadcast, rewritten or redistributed. We strive to uphold our values for every story published.