Kansas University's plans to seek a national historic district designation for the core of its Lawrence campus are "on hold" until a separate controversy in the 1300 block of Ohio Street is settled.
KU Assistant Provost Jim Long said Monday the university was not abandoning the idea of a historic district designation.
"The university remains committed to the principles of historic preservation," Long said. "It's just that we're taking one thing at a time at this particular point."
But minutes from the June 10 meeting of KU's Campus Historic Preservation Board for which Long is chairman suggest the university is reconsidering such a designation because of its problems on Ohio Street.
"In light of the difficulties, the university is currently reassessing its interest in the movement to establish a historic district," the minutes said, citing Long as the source of the comments.
The university wants to tear down three century-old homes in the 1300 block of Ohio Street to make way for scholarship halls. It has been prevented from doing so because of a state ruling that says the demolitions would harm the historic value of the Usher House, 1425 Tenn.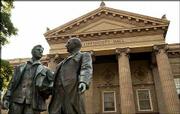 That building is on the National Register of Historic Places. KU has appealed to Gov. Bill Graves to overrule the decision and allow the houses to be demolished.
Some university officials have feared similar rules for a campus historic district would make it more difficult for KU to build and remodel nearby buildings.
"While the university remains committed to the principles of historic preservation, the difficulties associated with the Ohio Street properties compel the university to more fully consider the implications of further movement down the road to create a historic district," the minutes said, again citing Long as the speaker.
Dennis Farney, president of the Historic Mount Oread Fund that is helping the university pursue the historic designation, was not available for comment Monday.
KU officials first talked publicly last summer about obtaining a national historic designation for the central campus along Jayhawk Boulevard, between the Chi Omega Fountain and the Kansas Union.
Officials said at the time that the main benefit of a historic district would be a boost to the university's prestige, encouraging alumni loyalty and aiding new student recruitment.
"It would give the Mount Oread campus a national status," Martha Hagedorn-Krass, an architectural historian with the Kansas State Historical Society, said at the time. "Such a listing would reinforce the university's commitment to preserving the campus. That's never been in question; it's beautifully maintained."
Copyright 2018 The Lawrence Journal-World. All rights reserved. This material may not be published, broadcast, rewritten or redistributed. We strive to uphold our values for every story published.