Those up for a short road trip this weekend shouldn't have any trouble finding a festival that strikes their fancy.
A handful of area communities north, south, east and west of Lawrence are staging events that have become annual traditions.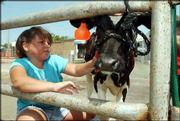 l The Franklin County Fair started Thursday in Ottawa and will continue through Sunday. Although it's the 137th year for the fair, which features 4-H exhibits and a rodeo, the festivities don't get old, said Jill Geist of the Franklin County Convention and Tourism office.
"It's a tradition, but it's also something new for that one time of year," she said.
At 6:30 p.m. today, a market animal sale begins, followed by a watermelon feed for buyers and sellers. Carnival rides will open on the midway at 6 p.m., and the final rodeo performance is set for 8 p.m. A youth rodeo is Sunday morning.
East of Lawrence, in Eudora, the century-old CPA Picnic ends late tonight after a day of recreational events, food booth sales by St. Paul's United Church of Christ, a 7 p.m. parade through downtown and entertainment from live bands from 6 p.m. to midnight.
A drive north out of Lawrence and into Jefferson County will take visitors back in time to Meriden's 26th annual Threshing Show, featuring demonstrations at the most complete working blacksmith shop in the Midwest, a steam-powered saw mill and a working flour mill.
Today's activities begin at 9 a.m. with a garden tractor and lawn mower pull. An antique and classic tractor pull will begin after a 1 p.m. parade. From 8 p.m. to 11 p.m., a barn dance to the live country music of Arnie Johnson will cap the day. More demonstrations, a parade and tractor pulls will continue Sunday.
Admission to the three-day fair, which began Friday and ends Sunday, is $6. Children 12 and under are free.
In Topeka, a 69-year-old cultural tradition wraps up this weekend. The 2002 Fiesta Mexicana, a fund-raiser for Our Lady of Guadalupe School, started a week ago and features authentic Mexican food prepared by volunteers, three stages of live traditional Mexican music and carnival rides. Festivities today begin at noon.
A shuttle service is available from 5 p.m. to 11 p.m. between the Kansas Judicial Center, south of the Statehouse, and the fiesta grounds.
Also in Topeka, the Sunflower State Games continue today at several venues around the city. More than 5,100 athletes are signed up for the games, which include activities ranging from archery to wrestling.
Copyright 2018 The Lawrence Journal-World. All rights reserved. This material may not be published, broadcast, rewritten or redistributed. We strive to uphold our values for every story published.