Free State High boys basketball coach Jack Schreiner was peeved.
Even with his team leading with less than two minutes left in Monday's game against Shawnee Mission South at FSHS, Schreiner was beside himself.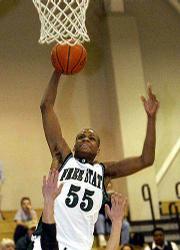 "We are the worst free-throw shooting team in America," Schreiner spouted as he walked away from the Firebird bench after Free State had just missed three consecutive free throws.
At least Schreiner's team heard him.
The Firebirds hit nine of 13 free throws down the stretch to secure a 59-54 victory over the Raiders for Free State's fourth consecutive win.
"We just had to suck it up, and hit those free throws if we wanted to win," said sophomore Dain Dillingham, who scored all 12 of his points in the fourth quarter. "That's part of the mentality that we're trying to have."
For most of the contest, the mentalities of both teams fluctuated. Free State (7-9 overall, 3-4 league) committed 10 turnovers in the first quarter.
SM South (8-9, 4-5) couldn't capitalize while hitting 33 percent of their shots in the first quarter, which ended in 12-all tie.
The Raiders tried to run out the last 40 seconds of the first half, but Schreiner opted for a trap. The Firebirds' strategy paid off as sophomore Cole Douglas drove to the basket to cut SM South's lead to 24-23 at the break.
FSHS junior center Keith Wooden played sporadically in the first half as he battled with what Schreiner called flu-like symptoms.
Wooden, who left the gym in the first quarter to vomit, battled through his sickness and his layin with 1:54 remaining in the third broke a 35-all tie.
The Firebirds continued their 12-1 run into the fourth.
But then came the free throws.
Dillingham hit two to open the fourth and Dougherty, who also scored 12 points, connected on another.
After a Dougherty miss, Wooden missed two more and Cole Douglas missed another.
Douglas, who along with Sam Strickler-Hut, Bijai Jones and Aubrey Gilbert all provided Free State with timely scoring.
"They hit some big shots," Schreiner said of his reserves.
The reserves accounted for 32 of Free State's 59 points.
"This is the way we hoped to start the year," Dillingham said. "But it's better late than never."
Vince Rodden and Cedric Whitney scored 15 points apiece to pace SM South.
Free State will meet Shawnee Mission Northwest, last in the league, at 7 p.m. Thursday at SM Northwest.
Copyright 2018 The Lawrence Journal-World. All rights reserved. This material may not be published, broadcast, rewritten or redistributed. We strive to uphold our values for every story published.