Technically speaking, Lawrence High's boys basketball team survived a comeback bid and overcame the ejection of its head coach in the fourth quarter on Tuesday night for a wild 57-56 victory over Kansas City Wyandotte.
With the Lions up 48-43 with 4:32 left in the final period, LHS coach Chris Davis was whistled for a technical after wanting an over-the-back call on a rebound and hollering, "You've got to be kidding me." Then, with LHS clinging to a 50-46 lead with 3:19 left, Davis was called for his second technical and automatic ejection for wanting a hand-check call.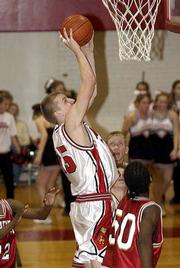 "I know one was to fire us up," said LHS senior point guard Stephen Vinson, who scored a game-high 24 points and had eight assists. "The second one we were kind of wondering about."
The ejection came a day after Kansas State men's coach Jim Wooldridge was tossed after storming the court in the second half of the Wildcats' loss to Kansas University in Manhattan.
"I watched the KU game last night and it wasn't anything like Wooldridge," Vinson said with a smile.
Wyandotte, ranked No. 7 in the Class 5A coaches' poll, failed to capitalize on the two technicals. The Bulldogs (8-6) managed just three points combined on the four technical shots and two ensuing possessions.
"I've never been tossed from a game," said Davis, who retreated to his LHS office adjacent to the basketball court following the ejection.
After the coach was removed, LHS, ranked No. 7 in the Class 6A coaches' poll and 12-3, quickly regained control with senior forward Jamie Peterson scoring on a drive and Vinson hitting two free throws.
Peterson sensed a technical coming from his coach, but two?
"The first one we knew what he was doing," said Peterson, who finished with 10 points and a team-high seven rebounds. "The second one we weren't too sure what was going on. It really made us come together as a team, but it shouldn't take the coach to have a technical to bring us together."
Wyandotte scored its final bucket on Brad Quincy's three-pointer with 10 seconds left to pull within one, 57-56. LHS called time with seven seconds left to set up its in-bounds play.
LHS assistants Joel Branstrom and Aaron Siebenthall devised a play in which Brandon McAnderson threw a pass down court to Vinson. A Wyandotte player knocked the ball out of bounds under the LHS basket. The Lions inbounded to Vinson again to run out the clock.
A tight contest seemed improbable early. The Lions bolted to a 20-4 lead with senior Matt Dunkin scoring seven and Vinson six during that surge.
The Bulldogs outscored the Lions 23-12 in the second quarter to pull withing 32-29 at halftime.
"I felt the game changed in the second quarter," Davis said. "The style of the game changed in how physical it became and I was frustrated."
Peterson was disappointed LHS couldn't put away the Bulldogs.
"It was a big letdown for us," Peterson said. "We wanted to be able to finish teams off. It was a lot closer game than it should have been."
Wyandotte made 11 of 16 field goals in the second quarter while LHS made four of 12 field goals and committed four turnovers.
"I think fatigue factored into it," Vinson said. "We slowly let them back into the game. It's all about effort. In the beginning we gave effort and they came back because we didn't get back on defense."
With the victory, LHS remains in the hunt for a high seed at sub-state.
"It was a big game in that we're starting to prepare for sub-state and every game is a difference in the seed we get," Davis said. "We knew this was a game we had to win."
Former Kansas University football coach Terry Allen attended the contest to watch his daughter perform with the Little Lions cheering squad at halftime.
Next for LHS is a Sunflower League game Monday at Shawnee Mission West. Tipoff is 7 p.m.
Copyright 2018 The Lawrence Journal-World. All rights reserved. This material may not be published, broadcast, rewritten or redistributed. We strive to uphold our values for every story published.