Houston: 71-vehicle pileup blamed on dense fog
Dense fog contributed to a fiery chain-reaction crash Saturday involving 71 cars, vans and trucks on the Sam Houston Tollway. Police said 21 people were injured, five seriously, though there were no deaths and no injuries were life-threatening.
The pileup started just before 7 a.m. on the four-lane highway and involved traffic in both the eastbound and westbound lanes.
"It was kind of a wall of fog," said Mike Young, 45, who was driving to work. He said he climbed out of his sport utility vehicle to safety while hearing crash after crash.
"When everyone was getting out, you could smell the gas and knew there would be a problem," Young said.
California: Oil tanker owner settles spill lawsuit
An oil tanker owner and other defendants have agreed to pay $4 million to settle the last remaining lawsuit from a 1990 spill that closed miles of Orange County beaches, harbors and fishing grounds.
If approved by a federal judge Jan. 13, the agreement would end nearly 12 years of litigation stemming from one of California's worst oil spills. The money would go into a fund for about 250 fishermen, businesses and property owners who claimed financial losses.
About 400,000 gallons of Alaskan crude oil spilled when the tanker American Trader ran over its own anchor while mooring near Huntington Beach.
The class-action lawsuit named tanker owner Attransco Inc.; BP America Inc.; terminal operator Golden West Refining Co. and Brandenburger Marine Inc., which employed the American Trader's harbor pilot.
Arkansas: Christmas tree fire kills 5 family members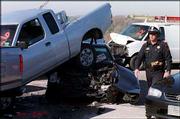 A woman and her four young children died of smoke inhalation after their Christmas tree ignited, authorities said Saturday.
Trumann Fire Chief Gary Anderson said investigators believed the family died late Thursday. The five bodies were discovered by a relative Friday night, Anderson said.
Family members and neighbors in the town of 6,400 said the mother was seven months pregnant.
The fire appeared to be accidental, Anderson said. He said the bodies had been sent to the state crime lab in Little Rock for autopsies.
New York: Slain paratrooper mourned, laid to rest
Friends, relatives and fellow soldiers gathered Saturday to grieve for a U.S. paratrooper killed during a firefight in eastern Afghanistan, with a major general calling him a "servant of our nation."
Sgt. Steven Checo, 22, a soldier in the 82nd Airborne Division, died Dec. 21 from a gunshot wound.
"Not only has he served, but he has given the ultimate sacrifice, his life, so you and I can be free in this land of ours," the Rev. Joseph Orlandi told mourners.
Cardinal Edward Egan also offered a prayer during the Mass.
After the funeral, Checo was honored with a 21-gun salute at a cemetery in the Bronx.
Copyright 2018 The Lawrence Journal-World. All rights reserved. This material may not be published, broadcast, rewritten or redistributed. We strive to uphold our values for every story published.