Maybe Cherrale Ricks should get a surprise start more often.
The Lawrence High junior was announced as a starter for the Lions' home basketball game against Free State on Friday -- junior Rachael Klingler was supposed to get the nod -- but it couldn't have worked out better for LHS.
Ricks scored 10 of the Lions first 12 points en route to a season-high 20 in their 72-49 win.
"It got written down wrong in the book," LHS coach Kristin Mallory said with a grin. "But it came out pretty good."
It was that kind of night for the Lions.
LHS (3-1) jumped out to a 16-9 lead after the first quarter, most of it courtesy of Ricks down low or points off 11 Firebird turnovers. Lawrence pushed the pace whenever possible, but was able to control the inside, too, dumping it inside to Ricks, junior Josie Polk or senior Jenna Wilcox.
"That was the key for us," Mallory said. "We knew we were bigger and we wanted to take advantage of that, get it inside."
LHS turned it up a notch in the second quarter, outscoring FSHS 27-16 and staking a 43-25 halftime lead. The Firebirds (1-2) were never able to get comfortable, struggling to advance the ball through Lawrence's full-court defense or adjust in their half-court offense.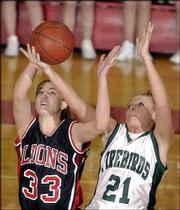 That first quarter was killer.
"Those first three, four minutes were real difficult for us," FSHS coach Bryan Duncan said. "We weren't quite ready. I think I used the term 'freaked out.'"
Free State did have success when its broke the Lions' press.
Juniors Emilie Humbarger and Jenny Gwaltney, who finished with 10 and eight points, nailed shots along the baseline when sophomore Jamie Stanclift wasn't taking the ball to the hole.
Stanclift had a team-high 16 points, but FSHS never could cut into the LHS lead.
"They were able to be really strong with the ball, and we didn't do a real good job of help defense," Duncan said. "Part of that was we wanted to put an emphasis on perimeter defense. The problem is that we don't play a lot of zone defense. But this early in the season we don't want to go away from what we're trying to do."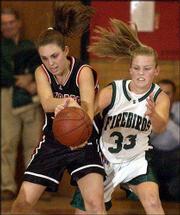 LHS, on the other hand, enjoyed its evening of doing exactly what it wanted.
"We just executed well," Ricks said. "We needed to make sure we executed early, keep it going and not let down."
Just about every Lion got in on the act, too. Polk finished with 18 points, including a perfect 10-for-10 from the free-throw line. Senior Leigh DeBiasse had 10 points, punctuated by a couple of three-pointers and a three-point play late in the fourth.
That sequence elicited a brief victory dance from Mallory, who still burned over last year's pre-holiday loss to FSHS.
"Christmas is going to be a little better than it was last year," she said.
Copyright 2018 The Lawrence Journal-World. All rights reserved. This material may not be published, broadcast, rewritten or redistributed. We strive to uphold our values for every story published.