Basketball is not meant to be played with a scowl on one's face.
At least not all the time.
Keeping that in mind, Kansas senior Kirk Hinrich decided to quit copying Scrooge and have some good, ol' fashioned fun against NCAA Div. II Emporia State on Saturday night at Allen Fieldhouse.
"Lately I haven't been having much fun out there. I've been stressing out. I've been playing with intensity, but not enough enthusiasm. I decided to kick back tonight," said the 6-foot-3 senior guard, who tied a career high with five three-pointers made in eight tries and scored 23 points off 9-of-12 shooting in Kansas' 113-61 victory against the Hornets.
It seems Hinrich hadn't forgotten how to shoot the past couple weeks while hitting just three of 17 three-pointers during a four-game stretch.
Partly because of nagging back pain that would turn anybody into a Grinch - his back strain didn't bother him at all Saturday - he'd simply forgotten how to smile.
That all changed against ESU when Hinrich tied Wayne Simien for the team lead in points and led the squad in grins.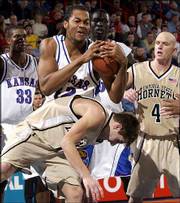 "When you lose games like we had been, pressure tends to build," said Hinrich, whose team has suffered losses to North Carolina, Florida and Oregon. "I don't think it got to me. It was more a feeling we played our butts off against Oregon and still lost. That can be frustrating.
"This feels a lot better. I plan on it," he said of keeping a carefree attitude on the court. It's when I'ÂÂm playing my best."
On Saturday, he laughed and pointed at ESU assistant Eric Stamps several times after sinking threes. Stamps is a good buddy of ex-Jayhawk Nick Bradford, and spent a lot of time on KU's campus Hinrich's freshman year.
"He was talking the whole game," Hinrich said. "I just had a good time tonight, not just because of him. You're supposed to have fun out there."
It's been speculated Hinrich's back strain weakened his legs, hurting his lift on jump shots. The guard said that has not been the case.
"I'd been rushing them," Hinrich said of his threes. "They'd been good shots, but I'd been rushing them. I'd get the ball and get excited, like, âÂÂ'I've got a shot.' So I'd rush it and take it."
Senior Nick Collison, who is six inches taller than fellow Iowan Hinrich, hit a pair of threes for the second straight game as KU (5-3) converted nine of 23 treys. Emporia State (4-4) hoisted a whopping 38 threes, hitting 12.
The Hornets were never in this one, though, lagging 64-23 at halftime.
"They shot 38 threes and their offense is not going to go inside very much against us," KU coach Roy Williams said. "I look at their field-goal percentage of 33 percent and we forced 23 turnovers. If you do that I think it's very important."
Collison hit eight of 11 shots en route to 19 points, while Simien cashed 10 of 11 shots, including a vicious dunk off an alley oop pass from Aaron Miles (13 assists, no turnovers) the final half.
"On the offensive end I think we need to get the ball inside to Wayne and Nick. It would be sort of silly if we didn't get it in there," Williams said. "Also Keith (Langford, 13 points) is going to take it to the rim. I was pleased with a lot of things about tonight's game.
"I told the kids we were more gifted than they are, we should win the game, but let's go out and make sure we make ourselves better today."
Williams was able to play everybody and get a good look at his bench. The Jayhawks led, 100-45, with 10 minutes to play.
Williams took all his starters out at 9:01.
Michael Lee continued his solid play of late with seven points and three boards. Jeff Hawkins and Jeff Graves had six points apiece, and Graves grabbed seven rebounds.
Moulaye Niang hit a deep jumper and had three points and three boards.
"I think we got something started in the right direction Wednesday in Tulsa with being a little more patient taking some better shots, and I think in the first half we continued that tonight," Williams said of his Jayhawks, who closed the first half with a 27-2 run.
"We were active defensively. Tonight was the first game this year of the four home games I heard talking on the defensive end of the floor. They shot a low percentage (27.6 first half) and we got them to turn it over.
"The second half still had some good things. I got a little upset at one point because I don't care who the dickens is in the game, you're supposed to play. I got on Moulaye a little bit and Jeff (Graves) a little bit because there are some times when Nick and Wayne are going to be in foul trouble and they are going to have to be able to play.
"We have 13 turnovers and Jeff and Moulaye have five of them so that was the purpose of the time out (down stretch). Then Jeff goes to the line and hits both free throws. Those are the kind of things we've got to have from those guys."
The Jayhawks, who are in final exams all week, will next meet UCLA at 4 p.m. next Saturday at Allen Fieldhouse.
Copyright 2018 The Lawrence Journal-World. All rights reserved. This material may not be published, broadcast, rewritten or redistributed. We strive to uphold our values for every story published.