SPRING HILL — Jeremiah McCanse survived slavery to become a prominent merchant and civic leader in Spring Hill. When he was sick, the city quietly supported him out of the public treasury.
And when he died in 1904, he was buried with military honors beneath a headstone that misspelled his name.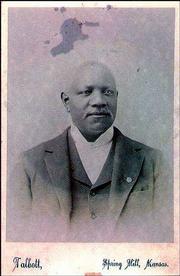 Saturday, McCanse's descendants gathered to dedicate a new headstone, one that spells his name right. Gathered with them under an oak tree at Spring Hill Cemetery were the descendants of the family that had owned him as a slave.
"It is a glorious, indescribable day," said Corinne Patterson, 76, McCanse's great-granddaughter. "It brings back history and makes me wonder what he would be thinking now if he were here."
About 200 people stood in a half circle as speakers talked of celebrating diversity and asking God for forgiveness for the sin of slavery. A vocalist sang "Amazing Grace" while an American Legion color guard stood at attention. The event was organized by the Spring Hill Historical Society.
Overlooking history
The McCanse story came to public attention in February of 2001 during a flap over a mural that celebrated Johnson County's history but included no blacks.
McCanse was put forward as a candidate to be included when the mural was revised. He did not make the cut, but the publicity produced a story of its own.
McCanse was a Civil War drummer at age 15, was a barber, father of six, land broker, school board member and, by one long-ago newspaper account, a "noted Republican."
Once valued at $600 as an 8-year-old slave, he is recognized by contemporary historians as the only black in Johnson County to have amassed enough capital and public goodwill to be important in the civic life of Spring Hill in the late 19th century.
"McCanse has become a symbol of freedom, an icon of enterprise and an example of what a resilient spirit can achieve," wrote Albert Rukwaro of the African Voice, a 3,000-circulation newspaper published in Gardner. "But above all, McCanse is the central figure in an unfolding genealogy story that has brought two families, separated by race and time, together for the first time in more than 100 years."
A noteworthy life
McCanse was born in 1847 in Lawrence County, Mo. After serving in the Union Army during the Civil War, he moved to Olathe in 1866 and to Spring Hill in 1876.
When his Main Street business opened in 1896, it was known as the "sunflower shop" because of its bright yellow interior. And in a small town with three barbers, McCanse gained a competitive edge with his phonograph.
Throughout his life, McCanse was active in the local post of the Grand Army of the Republic and drummed at public events.
When he became gravely ill in 1903 and couldn't work, downtown merchants secretly arranged for modest payments out of the city's treasury to support him and his family, research at the Johnson County Museum shows.
In February 1904, McCanse died of "dropsy." He was buried with military honors.
Connecting the dots
Then, last year, relatives brought a newspaper clipping about McCanse to the attention of Andrew McCanse, 73, a retired Kansas City surgeon and former Jackson County coroner.
His curiosity piqued, Andrew McCanse dug out a letter that had been in his family for a century. It was from an emancipated slave from Spring Hill to Andrew McCanse's great-grandfather, William McCanse, a plantation owner whose family had moved to Missouri from Tennessee with slaves.
Andrew McCanse realized his family had once owned Jeremiah McCanse. (It was common for slave owners to give slaves their name.)
At the same time, McCanse's great-granddaughter, Patterson, read accounts of the mural controversy and recognized a picture of McCanse as the same one found in family archives.
Both families contacted a newspaper reporter, who put them in touch. Living only 20 minutes from each other, neither side knew the other existed.
Since last year, the descendants of the former slave and slave owner have shared their story at family gatherings and for civic groups. They say they have embraced one another as "long-lost cousins."
Copyright 2018 The Associated Press. All rights reserved. This material may not be published, broadcast, rewritten or redistributed. We strive to uphold our values for every story published.