Kansas' new women's golf coach can take solace in the fact there's no place to go but up.
Coach Megan Menzel, who was hired on July 5 to replace Nicole Hollingsworth, inherits a team that placed dead last in the Big 12 Conference.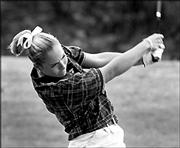 The Jayhawks, in fact, have placed last in the league the last three years.
"We are going to focus on the future, not where we have been," said Menzel, head coach at Colorado State the past two years where she led the Rams to the school's first-ever NCAA regional appearance in 2001, then repeated that feat last spring.
In addition, she led CSU to a school-record three tournament victories during a two-year period and a second-place conference finish in 2001.
"It is a little ironic. I realize when you go through things like this what a small world it is," said the 27-year-old Menzel, who was recruited by KU her senior year at Jenks (Okla.) High School, choosing New Mexico over the Jayhawks and others. "I was obviously impressed with Kansas the first-time around. I'm thrilled to be a Jayhawk and am looking forward to becoming a part of Kansas' outstanding tradition."
Menzel's top returning golfer is Jill MacDonald, a senior from Calgary, Alberta, who started her career at Penn State.
MacDonald was KU's only golfer to shoot in the 70s last season. She had an overall stroke average of 79.74, including an average of 79.55 in the spring season.
MacDonald shot KU's best round of the year with a 70 at the Sam Houston Invitational, placing her in a tie for ninth place. MacDonald placed third at the Iowa Invitational for her best finish of the season. At that meet, she shot 70 and 71 in the first two rounds. She notched 40th at the Big 12 meet after carding a 78 in the second round to go with rounds of 82 and 84.
Heather Rose, a senior from Martinsville, Ind., averaged 81.03 strokes. Rose won her first career tournament on a sudden death playoff at the Sam Houston Invitational, tying her best total score of the spring season at 235. Rose led the Jayhawks with a 32nd-place finish at the Big 12 championships. She had rounds of 83, 78 and 77.
Jennifer Bawanan, a junior from Modesto, Calif., returns after averaging 82.23 strokes.
Bawanan won a one-hole playoff at the Sunflower Showdown after shooting 71. She tied for 17th at the Islander Invitational after firing rounds of 83, 80 and 79. Bawanan placed 50th at the Big 12 meet after shooting rounds of 83, 83 and 85.
Tiffany Kruggel, a senior from Topeka, averaged 82.77 strokes. Kruggel had her season-best finish at the Islander Invitational, notching 23rd following rounds of 91, 83 and 71. Kruggel placed 56th at the Big 12 meet with rounds of 84, 82 and 92.
Kristy Straub, a senior from Great Bend, is back after averaging 85.06 strokes. She tied for 31st at the Marilyn Smith Invitational. She notched 60th at the Big 12 meet with rounds of 93, 92 and 90.
Tegan Thornberry, a junior from Overland Park, is back after averaging 87 strokes in five events. She tied for 55th at the Iowa Invitational for her best finish. She transferred to KU from Benedictine College.
The Jayhawks' incoming players are: Chelsey Pryor from Washington, Pa., and Tiffany Woods from Escondido, Calif.
Pryor is the first golfer in her high school's history to qualify for the state championships, placing 11th and 14th respectively her junior and senior seasons.
Woods placed fourth at her state meet and notched 30th at the junior world meet in 2001.
Copyright 2018 The Lawrence Journal-World. All rights reserved. This material may not be published, broadcast, rewritten or redistributed. We strive to uphold our values for every story published.